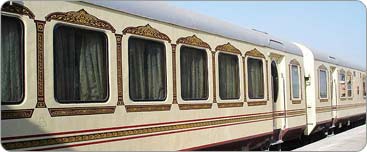 Embark on a journey, offering you eight days of regal sojourn that takes you to the most sought after destinations such as Rajasthan, Agra and Delhi. An expedition to the colourful desert land by Royal Rajasthan on Wheels is truly an unforgettable experience. The luxury train allows you to visit majestic forts and palaces, varied landscapes, diverse cultures and vibrant colours of the Rajasthan. The highlights of the train include its exemplary interiors, delicious meals, expensive wines and above all, personalized service by the 'Khidmatgars' or attendants. Flagging off from Delhi, the luxury train takes you to the wonderful destinations of Jaisalmer, Jaipur, Jodhpur, Chittorgarh, Sawai Madhopur, Udaipur and Bharatpur. This is the perfect opportunity for you to experience the royal grandeur of Rajput kings. The train also enables you to explore the erstwhile Mughal capital Agra along with the architectural marvel of Taj Mahal.
History
This luxury train is the result of the success of Palace on Wheels, therefore, the concept, itineraries, design and facilities of the train is inspired from the luxury train. Royal Rajasthan on Wheels commenced its royal journey in January 2009. The royal train is a joint venture of the Indian Railways & Rajasthan Tourism Development Corporation (RTDC). The train promises to serve the best of hospitality and the elegance of the bygone era.
Delhi - Safdarjung Station
Day-1, Sunday, Departure 16.30 PM
Delhi The luxurious Royal Rajasthan on Wheels takes you through a seven day exploration of the vibrant Rajasthan. The magic of the splendid journey begins at New Delhi and prepares you to weave the fabric of delightful imagination becoming reality over the next seven days. Your royal journey begins from Delhi and takes you through various erstwhile princely states.
Welcome on board at Delhi with the ceremonial greetings at the safdarjung station with traditional aarti and tika with garlanding and some mock tails to refresh your selves. After check in, you would be escorted to the respective cabins. Feel the difference of the World in the moving Palace which empowers luxury and tradition hand to hand.
Jodhpur
Day-2, Monday, Arrive at 09.15 AM. Breakfast on board | Departure 17.10 PM
Jodhpur the second largest city of the state of Rajasthan is famous for its magnificent Meharangarh fort. Another example of Rajput glory is the Jaswant Thada built in 1899.
Lunch at the beautiful 5 star deluxe heritage hotel & dinner on board.
Udaipur
Day-3, Tuesday, Arrival 08.00 AM Breakfast on board | Departure 14.30 PM
Water marked by whimsy & splendor, the Venice of the holds stage as one of India's truly seductive cities. Udaipur is an international destination unto itself, packed with princeliness & passion, Udaipur is raw Rajput dreaming, with palaces, haveils gardens & temples at every turn. Visit to the beautiful princely city palace. Lunch at 5 star hotel & in the afternoon followed by a trip to crystal gallery.
Chittorgarh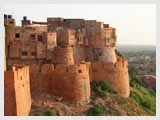 Day-3, Tuesday, Arrival 16.45 AM | Departure 22.00 PM
The story is a saga of valor, tenacity & sacrifice. The fort of Chittorgarh is a treasure trove of history & offers to the traveler an insight into the life of the great Rajput rulers. The victory tower or Vijay Stambh is one of the main tourist attractions of the fort. Gaumukh reservoir & the palace of queen Padmini are important spots to the south of the Rana Kumbha palace. The light & sound programme is shown at the fort.
Dinner on board/ Hotel Panna with cultural programme.
Sawai Madhopur
Day-4, Wednesday, Arrival 05.30 AM Breakfast on board or Hotel Vinayak | Departure 11.00 AM
Located in the eastern part of Rajasthan, Sawai Modhupur's claim to fame today is the Ranthambore Fort & Ranthambore National Park. Visit the national park to catch a glimpse of the majestic tigers roaming around in the open wilderness & also pay a visit to the imposing fort to turn a page in the history of Rajasthan. There is also a temple on route the park by the name of Amareshwar Mohadeo temple which can be visited by tourist.
Lunch on board
Jaipur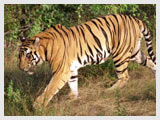 Day-4, Wednesday, Arrival 13:15 PM | Departure 22.15 PM
Welcome by caparisoned elephants & sweet music of the auspicious 'Shehnai'. Watch the awesome 'Hawa Mahal' (the palace of winds), elephants ride at amber fort, shopping of centuries old object de arts & other items.
Lunch at a 5 star hotel / on board & visit to the city palace residence of the erstwhile maharaja of Jaipur which houses a museum of amazing centuries-old artifacts & the observatory built by the founder of jaipur maharaja Sawai jai Singh-ii who himself was noted astronomer.
Dinner hotel jai Mahal palace with cultural program.
Khajuraho
Day-5, Thursday, Arrival 11.00 AM Breakfast on board | Departure 18.30 PM
The 9th to 12th century temples of Khajuraho is the evidences of the architectural geniuses during the times of chandela dynasty. situated in Madhya Pradesh, India, Khajuraho oozes with passion, eroticism, dance & music & other finesses of creative arts depicted in sculpture & images of the temples were built in north Indian 'Nagara' style of architure, though only 20 of them have survived the rough weather conditions over long years of time. Guest will take on visit of temples & museum.
Lunch at 5-star hotel & dinner on board
Varanasi (Banaras)
Day-6, Friday, Arrival 06.00 AM | Departure 18.00 PM
Varanasi is the oldest city of the world. Varanasi is more than 3000 years old & is famous as the city of temples. In Varanasi, there are temples at every few paces. Jyotirlinga Visvanatha temple or golden temple, rebuilt in 1776, is dedicated to the lord Shiva. The Jnana Vapi well (meaning 'well of wisdom) is believed to have been dug by lord Shiva himself. The Ganga Ghats (river front) are the most popular pilgrimage spot of Varanasi & are centers of music & learning. The holy city has been a symbol of spiritualism, philosophy & mysticism for thousands of years & has produced great saints & personalities like Gautama Buddha, Mahavira, Kabir, Tulsi das, Shankaracharaya, Ramanuja & Patanjali.
Lunch at 5-star hotel & dinner on board. Sightseeing include visit to Ghats, Maha Aarti, temples & Buddhist Temples at Saarnath.
Agra, Taj Mahal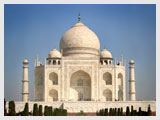 Day-7, Saturday, Arrival 05.00 AM Breakfast on board | Departure 23.00 PM
Agra is one of the prominent destinations of the world tourism map with two heritage monuments visiting Taj Mahal & Agra Fort. It is a vibrant centre of culture, art & religious philosophies that have enriched mankind & shaped human thought over centuries. Agra is famous for handicrafts products such as Inlay work on marvel, leather work, footwear, brass-wear, carpets, Jewellery, Zari & embroidery work.

Lunch at 5-star hotel & dinner on board.
Delhi
Day-8, Sunday, Arrival 04.00 AM Breakfast on board. Check out time 07.45 AM
Tour end at Delhi.
Tariff
The train is not in operation.
We will update the information here as soon as the Royal Rajasthan on Wheels Train will be functional.
Schedule
The train is not in operation.
We will update the information here as soon as the Royal Rajasthan on Wheels Train will be functional.
Facilities
Royal Accommodation
The train Royal Rajasthan on Wheels, offers you two types of accommodation:
Bravura Suite
This princely saloon is especially designed for spacious living with the comfort of royal suite. Some basic features of this suite include silk and velvet bedsheets, perfectly carved wooden furniture, ottoman, sofa-chairs, writing table and colour-coordinated draperies. It is named after the Emerald and Diamond, the two precious stones.
Deluxe Saloon – The Extraordinary Suite
This serves as your personal imperial chamber, especially meant for the contemporary style living. Besides the silk furnishings, the room is beautifully adorned with co-ordinated colour schemes and world class furniture. Equipped with all the modern and luxurious amenities, the rooms follow three different themes in hues of precious jewels such as Ruby, Sapphire and Pearl. They are named as Hawa Mahal, Surya Mahal, Chandra Mahal, Moti Mahal, Jal Mahal, Sukh Mahal, Padmini Mahal, Phool Mahal, Kishori Mahal, Jogi Mahal, Kumbha Palace, Lalgarh Palace and Umaid Palace.
Attendants
There are many attendants or 'Khidmatgars' to take care of your need and comfort.
Restaurant
A wide variety of mouth-watering delicacies are available in the two restaurants of the train, Sheesh Mahal and Swarn Mahal. Indian, Continental, Rajasthani and Chinese cuisines are served here with warm hospitality.
Sheesh Mahal is a fine family dining place adorned with marvelous floor lamps, wooden furniture crystal pelmets and crystal showpieces. The other restaurant, Swarn Mahal is designed based on a theme of gold and brass.
Bar
Both the restaurants, Sheesh Mahal and Swarn Mahal have a bar corner. These well-stocked bars serve you the selected brands of Aperitif, Whiskey, Malt, Scotch, Vodka, Rum, Cognac, Wines and Champagne.
Souvenirs
The Royal Rajasthan on Wheels offers numerous products and apparels, which are designed to suit your choice and interest. You can select from a wide range of Beer Mug, Leather Photo Frame, Emboss Leather Jewellery Box, T-shirt, Caps, Cruet Set and Old Paper Notebook with Train Painting.
Hospitality
At Royal Rajasthan on Wheels, the gracious hospitality is bound to leave you speechless. Your experience at the regal train will be doubled by the warm welcome and the diligent service. The meticulously trained attendants, your Khidmatgars will serve
Splendid Saloons
The 13 deluxe coaches have been rightly named after the famous palaces of Rajasthan. Namely, Hawa Mahal, Chandra Mahal, Surya Mahal, Moti Mahal, Sukh Mahal, Jal Mahal, Padmini Mahal, Kishori Mahal, Phool Mahal, Jogi Mahal, Kumbha Palace, Umaid Palace.
Transport
For a comfortable sightseeing experience, Royal Rajasthan on Wheels will provide AC buses for the passengers in deluxe saloons and cars for passengers in super-deluxe saloon.
Other Facilities
Nationals and Magazines are available on board
Laundry service is available on board to serve you better.
A separate safe is provided in your cabin to store your valuables.
Electric sockets are available inside the train
Mail box is provided aboard
Largest windows than any train running on Indian tracks
Wi-fi connectivity is available
Temperature control facility in Super Deluxe Saloons
Business Center, Board Room and Fitness Centers are available
Spa and recreation facilities are available
AC buses and cars for sightseeing experience
Channel music system and public address system
Get engrossed with a range of board-games and a variety of books on the train
Foreign exchange counters at hotel counters
110/120 V electric sockets in Train.
Royal Rajasthan on Wheels is a no smoking train.
Channel music system and public address system.
Attraction
When you are travelling with the Royal Rajasthan on Wheels, you can be sure of a memorable experience throughout the journey. It offers you an opportunity to catch the glimpses of rich culture of Rajasthan. To begin with, the travellers are accorded a welcome fit for kings.
As soon as, the train arrives at Jaipur, the passengers are treated to melodious recitals of Shehnai.
You can enjoy dance and song performances on board. Some popular names of cultural programmes include Ghoomar Dance (A community dance), Chari Dance (Dancing with a pot on one's head), Kachhi Godhi (Men dancing with dummy horses), Fire Dance (dancing with the fire), Terah Thali (dancing with Chau-tara instrument) and Kalbelia Dance (A vigorous and graceful dance movements).