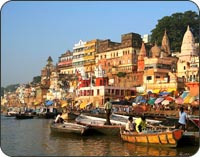 Varanasi ( Banaras) occupies a prized place as a Hindu pilgrimage center. Also known as Kashi, it is one of the oldest cities in the world. Pilgrims from across the world come here in great numbers. Varanasi symbolizes spiritualism, Hinduism, mysticism and Indian philosophy. This sacred place not only have temples but Buddhist Stupas and Jain temples too. This city reflects the age-old Indian civilization. There are several temples, ashrams and ghats in this city.
The term 'Kashi' was derived from the word 'Kas' which means to shine. Soaked in sheer mythological importance, Kashi is the 'orignal ground ' created by Shiva and parvati, upon which they stood at the beginning of time. The city also has one of the twelve revered Jyotirlingas of Lord Shiva.
The renowned English author Mark Twain said, "Banaras is older than history, older than tradition, older even than legend and looks twice as old as all of them put together". The Hindus consider Varanasi as holy of the holiest pilgrimages. It is believed that all the Hindus at least once in their lifetime must visit this holy city. The rich culture of this city is deeply linked with the holy River Ganga. It is also the place where several famous Indian poets, musicians, writers and philosophers lived. Kabir, Ravidas, Ramanand, Trailanga Swami, Munshi Premchand, Jaishankar Prasad, Acharya Shukla, Ravi Shankar and Girija Devi are a few to name.
The legend goes that Varanasi was established by the Hindu deity Lord Shiva around 5,000 years ago. It is one of the most sacred cities in India. It finds mention in the great Hindu scriptures such as the Rigveda, Skanda Purana, Ramayana, and the Mahabharata, mention the city.
Varanasi is dotted with many temples and Shri Kashi Vishwanath Mandir (also known as the Golden Temple is a famous one. Built in honor of Lord Shiva, the temple houses the Shivalinga. There are also various museum and art galleries. The other attractions are Durga Temple, Central Institute Of Higher Tibetan Studies, Barat Kala Bhawan, Banaras Hindu University  and Kashi Vidya Peeth.
Shopping
Varanasi is famous for Banarasi Silk sari, hand-woven carpets and Banarasi paan(betel leaf). Banarasi silk is famous for its fine quality and beauty. It look very graceful and elegant.