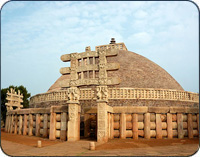 Preserving the 'Great Stupa' in India, the oldest stone structure in India, Sanchi is located in the Raisen district of Madhya Pradesh. It is known for monolithic Ashokan pillar, world famous stupas, monasteries, temples and sculptures. Ashoka the Great had commissioned the construction of the Great Stupa in 3rd Century BC.
History
Embellished with the Ashokan inscription, the 'Great Stupa'  at Sanchi is one of the oldest historical monuments at Sanchi. After the end of the Mauryan period, Sanchi also witnessed the Sunga and the Satavahana Period. Later the existence of Sanchi was documented for the first time by a British officer General Taylor.
Following are the main attractions:
Great Stupa 01: Recognised as one of the main attractions of Sanchi, it is believed to be the oldest surviving stone structure in India. This massive circular domes preserves the relics of Lord Buddha. Several Brahmi inscriptions have been embellished over the great stupa.
Stupa 02: One of the best examples of Buddhist architecture, this stupa is known for its stone balustrade. Several medallions decorate this stupa.
Stupa 03: Known for its embellished stone umbrella, this stupa's crown has religious significance. The relics of the earliest disciples of Lord Buddha had been discovered in this stupa.
The Ashokan Pillar
Located on the southern entrance, the Ashokan pillar was commissioned by Ashoka the great. Its built in Greco-Buddhist style of architecture.
When to Reach
One can visit Sanchi at any time of the year.
How to Reach
Air: The Raja Bhoj Airport in Bhopal is the closest airport to Sanchi, located 42 km away.
Rail: The nearest railhead is at Bhopal railway station, located 42 km away.
Road: Sanchi is well connected with the different cities in Madhya Pradesh with state services.