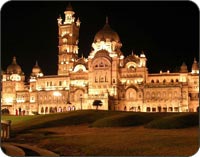 Earlier known as Baroda, Vadodara is a commercial city in the enchanting state of Gujarat. Occupying a pleasant place on the banks of River Vishwamitri, the city is famous for its palaces, temples, historical monuments, parks and museums. Tourists come here to catch glimpses of rich culture of Gujarat from far and wide.
This glorious city boasts of rich history. It was once ruled by the Gaekwads who contributed a great deal to its prosperity. According to the archaeological records people lived here since the pre-historic times which shows how ancient it is. This city was originally called Vadapadraka, which means 'a village amidst the banyan trees'.
Main Tourist Attractions
Laxmi Vilas Palace
Fashioned in Indo-Saracenic architectural style, this palace is the jewel of Vadodara. It was built by Maharaja Sayajirao III in the year 1890. The descendants of the king still resides here. There are several stunning apartments in the palace. There is also a museum inside the palace where  a rare collection of old armory and sculptures in bronze, marble & terracotta are on display.
Kirti Mandir
It was built in memory of the Gaekwad rulers. It is a popular destination which literally means "Hall of Fame". Built in stone it is adorned with murals.
Maharaja Fateh Singh Museum
It is a wonderful museum where you can see a rich collection of Indian and Western Paintings, Chinese and Japanese artifacts and Contemporary Indian art.
Nazarbagh Palace
Reflecting Victorian classical style of architecture, the palace is still occupied by the royal family.
Makarpura Palace
Boasting of its fantastic Italian style of architecture, the palace is now converted into an Indian Air Force training school.
Hajira
Built in memory of Qutub-ud-din(the general of Akbar's army), it is a fine Mughal monument.
Shopping
A variety of wonderful and colorful Gujarat handicrafts are available in the bazaars of Vadodara. Some of the famous ones are brass and iron objects, terracotta toys, mud wall paintings, and wooden objects.