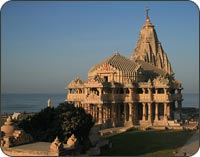 Veraval is a small but wonderful city located in the Junagadh district of Gujarat. Bestowed with a long coastline, the city boasts of beautiful beaches. Extending for miles without any interruption, the virgin beaches are ideal for spending some quality time with nature. The city has a huge boat making industry. It serves as the gateway to the famous tourist destination Somnath. It is located 6 km off Somnath, which is famous for its temple. It is also an important fishing port of India.
History
The history of Veraval dates back to the 13th century when it was founded by a Rajput ruler, Rao Veravalji Vadher. Once a fortified town, it has rich cultural heritage. 
Main Attractions
Veraval Beach
The city is known for its beach where you can even enjoy swimming. The beach offers swaying trees, unending stretch of sand, cool wind, lashing waves and pleasant environment.
Veraval Fishing Port
It is a must-see attraction which is one of the largest fishing ports in the country.
Nawabi Palace
Speaking about the glory of the past of Veraval, this palace ,overlooking the sea, has Gothic features.
Somnath Temple
It is one of most famous pilgrimage sites for the Hindus in India. It is considered the holiest Jyotirlingas of lord Shiva. The term Somnath means ' The Protector of Moon God'. According to the legend the temple was originally built out of gold by Somraj, the moon God. Later it was rebuilt in silver by demon king Ravana, then in wood by Lord Krishna and lastly in stone by Bhimdev.