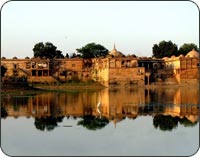 Sarkhej Roza is small city located near Ahmedabad in Gujarat. It takes pride in its arresting architectural complexes. The city is famous for its mausoleum and mosque. It was an abode of a great Sufi saint Sheikh Ahmed Khattu who lived here till the age of 111 years. After he passed away the sultan of this place built the mausoleum and mosque in his honor. It is one of the biggest mausoleums in the country. The complex became a relaxing place for sultans and later an imperial necropolis.
History
At one point of time the city was mainly inhabited by a huge population of Hindu weavers and Indigo dyers. The Sufi saint Sheikh Ahmed Khattu who lived here for many years was a spiritual guide to Sultan Ahmed Shah who was the then ruler of Sarkhej Roza. The sultan used to respect the saint a lot and would never take decisions related to his kingdom without consulting the saint.
Main Attractions
The Mausoleum and Mosque
Although the construction of the Mausoleum and Mosque was started by Sultan Ahmed Shah but they were completed by his successor Qutub-ud-din Ahmed Shah in the year 1451 AD. Later the beauty of these two monuments was enhanced by Sultan Mahmud Begada in the 15th century.
The architecture of the mosque is mesmerizing. There are several prayer halls inside the complex. Their domes, arches and courtyards are beautiful. It is a peaceful place where devotees come from far and wide. It is great experience to visit Sarkhej Roza.