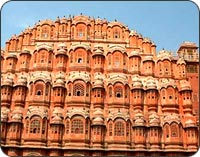 Jaipur, the princely state of Rajasthan, is enveloped in sheer royalty. It is popularly known as the Pink city as most of its buildings and establishments are painted in pink colour. It is also a part of the Golden Triangle Tour of India. Overflowing with astonishing attractions such as palaces, forts, havelis, lakes, gardens and temples, Jaipur is bestowed with rich cultural heritage. The perfect amalgamation of the traditional and modern can be seen here.
History
Jaipur city was the brainchild of Sawai Jai Singh, a Kachhawaha clan ruler. Established in 1727, the city was planned in accord with the Hindu architectural principles known as Vaastu Shastra. The original name of the city was Sawai Jaipur, which was later chopped to Jaipur.
Attractions of Jaipur
City Palace
Once the abode of the erstwhile rulers, City Palace is an outstanding architectural piece reflecting a perfect blend of the traditional Rajasthani and Mughal style of architecture. Done to perfection, the interiors of the palace are adorned with mesmerizing mirror work and beautiful paintings.
Hawa Mahal
Characterized by more than 900 beautiful windows, Hawa Mahal is a five-storied architectural masterpiece. Built by the king Sawai Pratap Singh, this mahal was especially built to facilitate the royal ladies to watch the street life without themselves being seen.
Jaigarh Fort
Perched on the hill, Jaigarh Fort encompasses beautiful palaces, a granary, a cannon foundry, temples and Jai Ban, the largest cannon in the world.
Amber Fort
It is a majestic fort built in red sand stone and white marble. It is a marriage between the Hindu and Mughal architecture. Overlooking Maota lake, the fort can be reached on foot or by elephant ride.
Jantar Mantar
Built by Maharaja Jai Singh II, it is the largest stone observatory in the world. It consists of several stone instruments used for measuring different astronomical phenomenon.
Cuisine
The culinary delights of Jaipur are famous among tourists. Gorge on the famous dishes like mishri mawa, ghevar and dal-bati-churma. The non-vegetarian specialities are the Lal maas (spicy red meat) and Safed maas(  white meat cooked with almonds, cashew nuts and coconut).
Shopping
Browse the bazaars of Jaipur for a variety of wonderful handicrafts such as semi-precious stones, miniature paintings, Kota doria saris, tie and dye fabric, blue pottery, silver jewellery, Jaipuri quilts, wood crafts, leather crafts and metal ware.
Fairs and Festivals
Although each fair and festival of Jaipur has its own unique charm but nothing can beat the charm of the popular Elephant festival. Elephant races, procession, beauty pageant, playing Holi on elephant's back and folk dance performance are the main highlights of the festival. The lephants are adorned from head to toe during the festival.