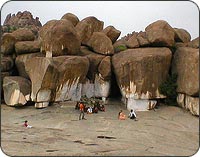 Internationally famed for its astonishing monuments, Hampi is a UNESCO World Heritage Site. Located in the state of Karnataka, Hampi leaves the visitors spell bound with its attractions. Its ruined architectural gems will surely transport you back in time. Covering an area of 26 sq km, the ruins beautifully compliment their rustic surroundings. The ancient temples here are a great testimony to the creativity of the then craftsmen. Hampi is popularly known as the 'City of Ruins'.
History
Originally known as Pampa, Hampi was founded by the two local kings Hakka and Bukka in the 14th century. In the past it has served as the capital of the famous Vijayanagara Empire. Hampi also finds mention in the Hindu epic Ramayana. It is also the birth place of Lord Hanumana.
Hampi Attractions
Hampi takes immense pride in its numerous ancient temples built magnificently. Although in ruins but these Hindu temples are still visited by the devotees. It attracts tourists from across the globe. There are around 500 monuments consisting of arresting temples, palaces, remains of lakes and ponds and regal pavilions. Some of the most fascinating temples in Hampi are - Virupaksha temple, Monolithic Bull, Varah temple, Rangatha temple, Veerabhadra temple Krishna temple, Hemakuta temple, Chandikeswara temple, Vishnupada Shrine, Saraswati temple and Sugreeva's Cave.
Some of the notable features of the heritage monuments in Hampi are huge gates(main entrance), open courtyards, elegantly carved walls and pillars, beautifully deigned sanctums, open pillared pavilions, beautiful statues of the heavenly deities and monolithic idols.