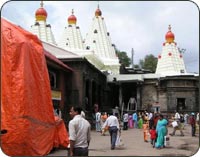 The magnificent temples, majestic forts, landscape beauty and diverse collection of flora and fauna make Kolhapur among the most preferred destinations of Maharastra Tour Itinerary. This place is located in lap of the Sahyadri mountain ranges. It is quoted as the Maratha City which is known for its palaces, forts, gardens, temples and serene natural beauty. The amalgamated beauty of spiritualism, education and modernization makes this place a high flying destination of Maharastra.
Kohlapur was founded by Chhatrapati Tarabai. During the reign of Rajaram Chhatrapati Maharaj and Rajarshi Shahu Chhatrapati Maharaj this princely state flourished in every aspect. This place is also known as 'Dakshin Kashi' which is among the flourishing cities of the Southern India.
Major Attractions
Shri Mahalakshmi Temple
It is one of the Shakti Peethas where goddess Mahalakshmi  (the goddess of power) is worshiped. The importance of this place is listed in Holy Scriptures of Hindu. It is believed that this place is one of the six places where one can obtain salvation from desires or see them fulfilled. The temple is dedicated to Mahalakshmi, the consort of Vishnu, hence named accordingly. This temple was constructed during the reign of the Chalukya Empire. The 3 feet image of Mahalakshmi is carved in black stone and adorned with precious gemstones. It is one of the popular destinations of Kholapur which is visited by scores of tourists seeking heavenly blessings.
Panhala
It is one of the well preserved heritages of this place. Built in between 1178-1209 AD, it was the most famous fort among the Maratha clan. It is nestled at an altitude of 977 meters and is known for its architectural beauty and majestic construction.
New Palace
It is a grand palace, also known as Maharaja New Palace, constructed in the year 1884. This palace is known for its architectural grandiose which reflects the fusion of the Jain and the Hindu style of construction and decoration. The architectural design of this place is highly influenced by the Gujarat and Rajasthan style of construction. Some Portion of the Palace still serves as the royal residence of the royal family of Kolhapur. The Museum of this place exhibits rich, exotic and royal collection costumes, jewellery, games and weapons. This place also houses the items used by Maharaja Shahaji Chhatrapati like guns, trophies and clothes during their fight with British.