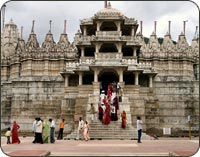 Ranakpur is located in the Pali district of Rajasthan state and is one of the five most important pilgrimage sites of Jainism. It is a small town located in the surroundings of forested Aravalli Hills. The geographical location makes Ranakpur a place laden with scenic beauty. The marvelously designed Jain temple is the major draw of Ranakpur.
Main Attractions
Jain Temple
The outstanding Ranakpur Jain temple is dedicated to Adinatha (who was the first Tirthankar of the present age). Made up of light colored marble, the grand temple is constructed on an area of 60 x 62 meters.  The unique domes, turrets and cupolas provide distinctive look to this majestic temple. There are around 1444 delicately carved marble pillars to support the temple. No two pillars are similar when it comes to carvings. This unique feature gives Ranakpur a special place in architectural world.
The temple has 29 halls, 80 domes and the pavilions including 1444 pillars. All these structures are so intricately and artistically carved that they'll leave a lasting impression on you. The figures of dancing goddesses, beautifully engraved on these pillars are known for their architectural beauty. Not only the pillars but almost every structure is carved with great intricacy.
Parshvanath Temple
The temple is known for its ornamental windows with pierced stone. It is located near the Adishwar temple. This temple is also known as Patriyon ka Mandir and is famous for a black stone image in its sanctum sanctorum. Blitz of weather and time eroded some parts of the temple but it still holds its charm.
Kumbhalgarh
It is a historical site located 30 km northeast of Ranakpur. It is one of the important forts of Mewar region after Chittourgarh. This fort is known for its massive structure with many gateways. The fort has many monuments which articulate the saga of valor of Rajupt heroism. The huge fort has the second longest wall (36 km long & 25 feet thick) in the world, after the Great Wall of China. The beauty of the fort exponentially increases as darkness arrives. When the daylight fades away the entire fort is lit with yellow sodium lights. And, this hypnotizing charisma remains for half an hour.
Chittorgarh Wildlife Sanctuary
The excursion to this sanctuary gives you a chance to encounter some of the endangered species of wildlife. Some of the species that are found here are Wolf, Leopards, Sloth bear, Hyena, Jackal, Jungle cat, Sambhar, Nilgai, Chausingha (the four horned antelope), Chinkara and Hare. Here you can also come across a vast range of bird species. The natural composition of this place will certainly leave impressions in your memory. The thrill you experience here will entice you to come to this sanctuary again.