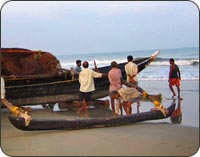 When it comes to experience the best of natural beauty and relaxation, every bit of India has something or the other to offer to its guests. How many of you can think that a small, undeveloped and virgin land located hundreds of kilometers from the urban area can serve as a perfect setting for all the peace seekers, honeymooners, nature lovers and even the routine vacationers? Tarkarli, located at a distance of about 6 km south of Malvan and 546 km from Mumbai, is basically a small village on the coast of Maharashtra.
Its location at the confluence of the Karli River and the Arabian Sea makes it a happening place for all the tourists. Lying along the Konkan coast, Tarkarli is famous for its long and narrow stretch of beach that offers pristine waters. This beach is, undoubtedly, considered as one of the most beautiful beaches in the entire region.
Things To Do
Despite of being a seclude and quiet destination, Tarkarli offers a lot of fun activities to all its guests.
If you are a wanderer, you can walk through the quaint fishing villages that are located along side the beach. This is th perfect way to explore the entire rural area and have a closer look at the lifestyle & traditions of the villagers.
Whether you are a glutton or an explorer of the food, Malvani cuisine is simply lip smacking.
The entire town of Tarkarli and the nearby region comes alive during Ram Navmi Utsav. This festival is organized every year in the Mapurush Temple and various music, dance & drama forms are presented here.
Because of being located in the Sindhudurg district, it offers excursion facilities to the famous Sindhudurg Fort that once belonged to the brave Maratha King Chhatrapati Shivaji.
Water lovers can also avail the wonderful opportunities for dolphin spotting, boating and swimming.