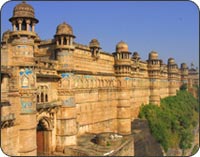 Gwalior, the capital of enchanting Madhya Pradesh is a wonderful city to visit. It is rich in cultural heritage which beautifully reflects in its attractions. Here you can see both tradition and modernity. Majestic forts, white sandstone mosques, beautiful temples and breathtaking art and architecture are some of the attractions of this historic city.
History
Gwalior boasts of a rich history. It witnessed the fall and rise of several dynasties and each dynasty contributed to the richness of the culture of Gwalior. According to the legend a saint named Gwalipa healed Suraj Sen, the then ruler of Gwalior from leprosy and hence the city got its name from the saint. Gwalior was once the capital city of Great Maratha Sardar (Knight) & Warrior Maharaja Shrimant Madhavraoji Shinde.
Gwalior Attractions
Gwalior Fort
Located at a height of 100 m, the fort boasts of brilliant architectural style. It is recognized as one of the most impregnable forts of North India. Its foundation was laid by Raja Man Singh Tomar in the 15th century. Its architectural brilliance earned it the title "The Pearl amongst Fortresses of India". Covering an area of 3 sq km, the fort is fortified with sandstone walls. The fort complex encompasses six palaces, three temples and several water tanks.
Man Mandir
It is a beautiful palace located inside the Gwalior Fort. Its mesmerizing paintings and exquisite carvings deserve mention. It reflects the superb use of motifs, patterns and colors. It also has the 'Suraj Kund Pond' where the King Suraj Sen was healed from leprosy by sage Gwalipa.
Teli ka Mandir
Dating back to the 9th century, this temple is dedicated to lord Vishnu. Reflecting the Telangana architectural style, the temple owes its name to the Telis( oil merchants) who  built it. It is beautifully built and adorned.
Jai Vilas Palace
It is the royal abode of the royal Scindia family. Some of its royal apartments have been converted into museum where belongings of the royal family are on display. It is a combination of  Italian, Corinthian and Tuscan styles of architecture.  Different historical artifacts from several countries are also on display. Don't miss the silver train, with cut-glass wagons and miniature rails, which ran along the dinner tables and was used to serve food to the guests.
Tomb of Tansen
It is the tomb of the legendary Tansen, who was the founder of Hindustani classical music. He used to sing in Akbar's court. It was built in Mughal style of architecture. It serves as the venue for a national level music competition every year in the month of November/ December.