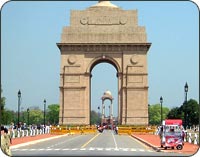 Delhi, the versatile city, is a perfect blend of traditions and modernity. It is the capital of an incredible country, India. It is a major political, cultural and commercial city of the country. With boundless attractions in its sleeves, Delhi is a great testimony to the glorious history of India. From architectural marvels to mouth-watering cuisine and interesting culture, Delhi offers a lot. The different facets of the city beautifully reflect in its attractions.
History
The glorious history of Delhi dates back to the era of the Pandavas, when it was known as Indraprastha. The city witnessed the rule of several rulers who left behind their legacy in the form of architectural masterpieces.
Main Attractions
Historical Monuments
Overflowing with attractions, Delhi is a mesmerizing city. The city is divided into two sections- New Delhi and Old Delhi. Old Delhi boasts of amazing monuments, forts and mosques which echo the celebrated history. The famous attractions of the city are the Red Fort, Chandani Chowk, Raj Ghat, Shanti Van, Humayun's Tomb, Purana Quila, India Gate, Qutub Minar, Rashtrapati Bhawan, Jantar Mantar, Jama Masjid, Safardarjung's Tomb and Rajghat. The city has several wonderful museums such as the National Museum, the National Gallery of Modern Art, The Doll Museum and The Rail Transport Museum.
New Delhi main attractions include the Rashtrapati Bhawan, the India Gate, the Laxminarayan Temple, the Humayun's Tomb and the Purana Quila.
Cuisine
Delhi is the place where you can get any kind of cuisine. Starting from Indian to Chinese, Thai, Mughalai, French, Italian, Moroccan, Lebanese, Israeli, Indonesian and Swiss, the city has a lot to offer.
Shopping
Delhi is dotted with many markets and shopping malls where a variety of shopping items are available. From handicrafts to jewellery, carpets, different types of fabrics, metal ware, precious stones, leather ware etc, all are available here. Some of the most famous shopping destinations in the city are Chandani Chowk, Connaught Place, Karol Bagh and Dilli Haat.
For entertainment Delhi has auditoriums which serve as venues for music and dance performances, plays and exhibitions. There are amazing discotheques in the city. Cinema halls are one of the favourite means of entertainment of delhiites.