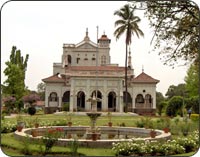 Popularly known as the "Oxford of the East", Pune is a wonderful city in the state of Maharashtra. It is hemmed in by beautiful hills, which adds to its charm. Its mesmerizing lakes have their own unique contribution to the beauty of the city. It is famous as the cultural capital of Maharashtra. It is fast gaining popularity as a tourist destination. Its attractions such as ancient forts, caves, museums, temples and scenic beauty simply enchant the tourists who come here from far and wide. This wonderful city is a center for Marathi theater, education, crafts and culture.
History
The history of Pune goes back to 937 AD. Shivaji was one of the great rulers of the Maratha Empire which ruled over Patna and contributed a lot to its prosperity. In the year 1730, Pune became an important political center. Later in the year 1817 it came under the rule of the British and served as a cantonment town.
Main Attractions
Aga Khan Palace
It is one of the most famous monuments of the city located in Yerawada. It was built by Sultan Mohammed Shah, Aga Khan III.
Empress garden
Sprawling over an area of 59 acres, Empress garden is known for its variety of fruit bearing trees. It is located in close proximity to the Pune Race Course. It is a wonderful place to visit.
Mahatma Phule Museum
It is a famous museum established in the year 1890. Initially it was named as 'Lord Ray Museum' and later it was changed to Mahatma Phule. Arresting collection of industrial products, agricultural articles, handicrafts and body samples of a variety of animals etc are showcased in the museum.
Raja Dinkar Kelkar Museum
Located in Shukawar Peth on the Bajirao road, this museum is considered as an important museum of the city. Maintained by the Department of Archeology, Government of Maharashtra, the museum houses rich and rare collection of musical instruments, lamps, paintings, nutcrackers, Ganpati's guns, carved palace doors, pottery etc.
Katraj Snake Park
This is one of the finest conservation parks of India. It provides shelter to wildlife like snakes, birds, turtles, reptiles etc.