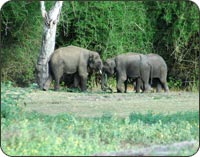 Bandipur National Park lies 80 kilometres from Ooty in the state of Karnataka. It is among the famous wildlife reserves of India, which is known for its exotic collection of flora and fauna. The moderate temperature and varied geographical features support wide varieties of plants, birds and wildlife species of this park. An array of natural collections makes this place a wildlife paradise for wildlife enthusiasts. In 1973 this park became a Tiger Reserve and came under Project Tiger. And in 1974 this park got the status of a national park.
The Moyar, the Kabini and the Nagur are three rivers that flow through this sanctuary. Bandipur is a lovely destination that can be visited all year round. With the change of a season, this National Park also changes its flora pattern, which provides a different outlook to this park in different seasons. Sometimes it becomes dry deciduous forests, and sometimes it teems with greenery.
The Bandipur National Park houses around seventy tigers, over three thousand Asian elephants, sloth bears, leopards, gaurs, dholes and several species of colourful birds. Open jeep safari is the best way to explore the real charm of this place. Vehicles can be rented from the park authorities as private vehicles are restricted inside the park. This park offers a vast scope for wildlife photography and is truly a delightful place for them. It attracts a number of photographers from several parts of the globe.
Over 200 species of birds have already been spotted and identified in this national park. This vast collection of bird's species attracts scores of bird lovers and ornithologists from various parts of the globe. The most commonly noticed birds of this place are Peafowl, Grey Jungle Fowl, Red Spur Fowl, Hawk Eagle, Serpent Eagle, Scops Owl, the yellow-legged Green Pigeon and many more.
The Bandipur Wildlife Sanctuary adjoins the Madumalai Wildlife Sanctuary of Tamil Nadu in the South and the Wayanad Sanctuary of Kerala to form India's largest biosphere reserve, which is popularly known as the Nilgiri Biosphere Reserve. This vast region is endowed with rich vegetation which ranges from deciduous and evergreen forest covers to open grassy woodlands.