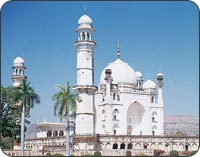 Aurangabad is an ancient city located on the banks of the Kham River in Maharashtra. Hemmed in by wooded hills on all the four sides, this city was named after the Mughal Emperor Aurangzeb. It is surrounded by amazing tourist attractions such as Ajanta and Ellora caves, which are recognized as World Heritage Sites by UNESCO. The city is a home to beautiful forts, temples, gardens and caves.
History
Aurangabad city was founded by Malik Ambar, the Prime Minister of Murtaza Nizam Shah of Ahmadnagar. The historic monuments and rich cultural heritage are the striking features of this city, which are a great testimony to its glorious history. For a short span, the city once formed a very important seat of the Mughal Empire.
Aurangabad Attractions
Bibi Ka Maqbara
Popularly known as the mini Taj of the Deccan, Bibi Ka Maqbara is the burial place of Aurangzeb's wife. Fashioned like the famous Taj Mahal, it is set amidst beautiful garden with ponds, fountains, broad pathways and pavilions. There is also an archaeological museum here.
Aurangabad Caves
Aurangabad Caves is a collection of 12 Buddhist caves surrounded by the hills. These caves date back to around 2nd to 3rd century. Their unique architectural style is superb. Located on the outskirts of the city, these caves have been divided into three major groups. The sculptural beauty of Cave number 7 deserve special mention.
Daulatabad Fort
Located around 13 km from the Aurangabad city in the Daulatabad city, Daulatabad Fort is set on a hill. Built in the 12th century, the fort is one of the best preserved forts in the world. This huge fort has a brilliant architectural style. The Chand Minar, Chini Mahal and Jami Masjid are the must-see structures inside the fort.