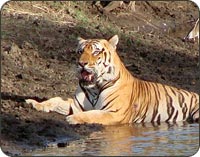 Sawai Madhopur is a wonderful city located in the royal state of Rajasthan. It is well known for its world-famous Ranthambore National Park, the tiger reserve. It is affectionately dubbed as the 'gateway to Ranthambore'.
History
The foundation of Sawai Madhopur was laid by Maharaja Sawai Madho Singh I of Jaipur. It saw the rise and fall of several empires. The city was named after its founder.
Main Attractions
Ranthambore National Park
Nestled in Sawai Madhopur district of the enchanting land of Rajasthan, Ranthambore National Park is a paradise for wildlife lovers. It is a home to around 320 species of birds, including both resident and migratory, approximately 40 species of mammals and 35 species of reptiles. Here You can sight animals like tiger, leopard, spotted deer, crocodiles, hyenas, jungle cats, chital, wild boar and jackal. It is one of the most promising national parks of the country to sight a tiger.
Covering an area of 392 sq km, the Park was once the hunting ground of the erstwhile rulers. It was declared a national park in the year 1955. It was established with an aim to preserve tigers.
For animal sighting, the most propitious time to visit the Park is from April to June. And if birds push your adrenaline level into high gear, then come here in the period between October to March. The Park remains closed from July to September.
Ranthambore Fort
The glorious history of Ranthambore majestically reflects in the Ranthambore Fort. It is located within the boundary of the park. Built in 994 AD by a Chauhan ruler, the fort has several beautiful structures. The fort offers a picturesque view of the Park. The Ganesha Temple inside the fort attracts many devotees.