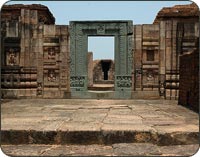 Ratnagiri is a wonderful port city on the Arabian Sea coast famous for its Alphonso mangoes, cashew nuts, coconuts, jackfruits, fort and mesmerizing beaches. Located in the vibrant state of Maharashtra, Ratnagiri is surrounded by Sahyadri mountains on its west. One of the most important industry here is fishing.
History
Ratnagiri witnessed the rule of several rulers- the Mauryas, the Nalas, the Silaharas, the Chalukyas, the Kadambas, the Portuguese, the Marathas and the British. The legend goes that Pandavas of the Great Hindu epic Mahabharata, during their pilgrimage, stayed in the vicinity of Ratnagiri.
Attractions
Beaches
The bewitching beaches of Ratnagiri offer a great ambiance for relaxation. Mandvi beach, Pandre Samudra and Bhatye beach are the three beaches you can visit in Ratnagiri.
Fish Research Centre
If you wish to see a variety of fishes and want to know about them, visit the museum of the Fish Research Centre.
Ratnadurg Fort
This rustic fort was built during the period between 1350 AD to 1500 AD. There is a Bhagwati Temple inside the fort.
Palace of Theba
It is an ancient palace where the king of Burma was detained by the British.
Parashuram Temple
It is a beautiful temple dedicated to Parashuram. It was built in the 18th century.
Vashishti river
Tourists can enjoy boating and angling here.