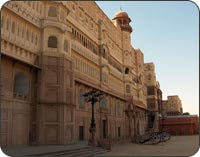 Famous for its mouth-watering sweets and bhujia (traditional Indian savory), Bikaner is a princely city of Rajasthan. Majority of the structures of Bikaner reflect the traditional Rajput style of architecture which in itself is a great attraction. It is affectionately dubbed as the Camel Country and a camel safaris here is something which should not be missed.
Bikaner is appreciated for its majestic forts and palaces, and pleasurable camel safaris. It is home to the largest Camel research and breeding farm in the world. The city comes alive with the camel festival which is celebrated here every year.
History
Bikaner derived its name from its founder Rao Bikaji who established it five centuries ago. It is a testimony to the Rajasthan heritage. It used to be an important trade route linking the country with China and Central Asia.
Main Attractions
Junagarh Fort
This majestic fort was built by the ruler of Bikaner in the 16th century. This unconquered fort boasts of several arresting structures such as Moon Palace, Phool Palace, Karan Mahal, Rang Mahal and Anup Mahal, Har Mandir and a museum displaying a rare collection of royal possessions.
Camel Research Farm
It is one of its kind camel farm in Asia where research is conducted on camel breeding for commercial purposes. It was established by Indian Council of Agricultural Research in the year 1984.  It plays an important role in the lives of Rajasthani people as camel is an integral part of their day today activities.
Deshnok Temple
This is an interesting temple which is home to thousands of rats who are worshiped here. It is believed that they are the incarnations of Goddess Karni who once live here and performed miracles. They do not harm anyone and are considered holy.
Camel Festival
The camel festival of Bikaner is a great attraction which attracts thousands of tourists every year. Celebrated in January, the festival offers several camel sports and competitions and dance and music performances.
Shopping
The miniature paintings of Bikaner are famous for their unique style and beauty. The bazaars of Bikaner offer beautiful handicrafts, leather items, jewelry and paintings.