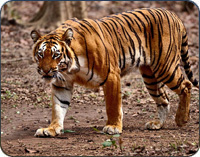 Nagzira Wildlife Sanctuary
Located in the Gondia district of Maharashtra, Nagzira wildlife sanctuary is an ideal destination for wildlife lovers. It lies within the Nagpur circle of state forest department and  is a crucial conservation unit for Central India in general and Vidarbha in particular.  It is a wonderfully preserved green lung for humans and a home for many endangered wildlife species. The forest is named after the 'Nag' (snake) temple located in the centre of its vicinity.
Following are the main  attractions:
Flora
Generally, this sanctuary consists of mixed vegetation. Dry and deciduous trees make most of the vegetation. The major trees found here are Teak and Bamboo. Small sized grasslands can also be seen around. The rarely found weed varieties of Ghaneri and Congress grass grow here.
Fauna
The  rich fauna of this sanctuary comprises of tigers, the major attractions over here. Apart from tigers, it also has bison, sambar, nilgai,chital,wild boar, barking deers,mouse deers and an elephant named Rupa. In terms of reptiles, the sanctuary includes Rock python, Dhaman,  Indian Cobra, Russel's Viper and common monitor.166 different species of birds have been spotted so far. Most of these species include  migratory birds. The number of India's national bird, the peacock, is around 75-100 in number.
The Amphibian family consists of many interesting varieties of frogs and toads like Tree-frog, Bull-frog, Six-toed frog, Ramanella Montana etc.
When to go
The best time to visit is from April to May. Th park will be closed from June 16th  to September 30th due to monsoons.
How to go
By Air: Nagpur is the nearest airport located at a distance of 100 km.
By Rail: Gondia (50 km)is the nearest railway station.
By Road: The park is located 22 km away from Sakoli on National Highway 6 and the nearest bus stand is Sakoli and Tirora.