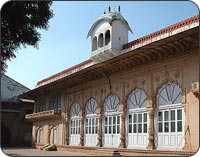 Bharatpur is the princely city of Rajasthan, which is internationally famed for its Bharatpur National Park, a World Heritage Site. Once the capital of a kingdom ruled by Jat maharaja, Bharatpur was established by Maharaja Suraj Mal in 1733. Now Bharatpur is synonymous with Bharatpur National Park which is also known as Keoladeo National Park. Bharatpur was named after Bharat, the brother of Lord Rama.
Main Attractions
Bharatpur National Park/ Keoladeo National Park
The abode of colourful and enchanting birds, the Park is a big hit with bird lovers. Its foundation was laid in 1890 by the Maharaja of Bharatpur. The Park boasts of around 300 bird species (including the migratory Siberian Crane) and a variety of other wildlife species like pythons, Hyena, Sambhar, Chinkara, Blackbuck, Wild boar, Wildcat and Nilgai.
Here you can treat your eyes with sights of the birds such as  egret, painted, open-billed, white necked and black necket stork, white ibis, spoonbill, night heron Siberian crane, the Siberian Greyleg Goose, the Chinese Bareheaded Goose.
Lohagarh Fort
Majestically built in the 18th century, Lohagarh fort encompasses three stunning palaces- Kishori Mahal, Mahal Khas and Kothi Khas. A symbol of bravery, this fortified fort withstood several British attacks.
Government Museum
This museum displays traditional artefacts, delicately carved sculptures and ancient inscriptions.
Bharatpur Palace
This palace is a perfect blend of Mughal and Rajput architectural styles. It has stunning apartments with beautifully designed floor tiles. There is a museum at the centre of the palace housing ancient articles.