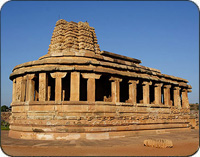 This temple-complex city of Aihole consists of 124 stone temples, revealing the beauty of Chalukyan architecture. It is fondly also called as the 'Indian rock architecture.' These temples exude the prominence of Buddhist and Jain style of architecture.
History
Nestled on the banks of Malaprabha river, Aihole was also the historic capital of Chalukya dynasty. It has also been called as 'Aryapura' and 'Ayyavole' in popular inscriptions. The 124 temples present in Aihole are grouped into 22 categories. Excavations of pottery items and bases also reflect the existence of pre-Chalukyan times. Nevertheless, it is believed that most of the temples were built in between 6th and 8th century AD.
Main Attractions
Durga Temple
Interestingly, the name 'Durga' refers to the fort and not to the Goddess. It is basically because this temple was once used as a military outpost (durg). It is believed that the apsidal form of the temple imitates the Buddhist Chaitya Halls. Though, it is originally dedicated to Lord Vishnu.
Ladh Khan Temple
Situated south to the Durga Temple, the Ladh Khan Temple is built in the Panchayat Hall Style. The elaborate lattice work embellish the windows. The sanctum was constructed after a while. It is known for being one of the experimental architectures by the Chalukyas.
Meguti Temple
It was built in 634 AD and hence, is recognised for being the sole dated form of architecture in Aihole. The Dravidian style of architecture was being practised to establish this temple, which unfortunately, was never completed.
Gowda Temple
Dedicated to
Goddess Bhagvati, the Gowda Temple
is built on the same lines of Ladh Khan Temple. Though, the year its establishment is not know, this temple is noted for the pillar work.