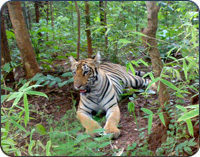 Lauded as the 'Jewel of Vidharba', the Tadoba national park is acknowledged as one of the oldest national parks in India. Located in Maharashtra, it was established in 1955 and named after the local deity Taru. It was included in the Project Tiger Reserve in 1993. Over the period of years, it has evolved as a heaven for wildlife enthusiasts. Jungle safaris are also organised for spotting tigers within the vicinity.
History
The forests in Taboda were once ruled by the Gond Kings. Hunting species was banned till 1935. Later in 1955, it was declared as a national park. In 1986, the Andhari Wildlife Sanctuary had been created adjacent to the Tadoba National Park.
Main Attractions
Jungle Safari
Gear up for an adrenaline rush. The 12 seater mini-bus, available at Tadoba is the best way to explore the national park. Cameras and binoculars are needed for a better viewing.
Flora
The flora of Tadoba National Park basically consists of southern deciduous forests. Bamboo and teak are the dominating varieties. The other floral varieties include palas, mahua, char, kosum, bija, tendu, bahera, ber, kurlu and lyndia.
Fauna
The finest varieties of fauna includes jackals, wild dogs, spotted deer, bisons and wolves. There are different kinds of deer varieties here like barking deer, spotted deer, Nilgai, chinkara and others. Spotted deer is present in ample number. 181 different species of birds are also available.
Timing
The national park is open from 6:00 am to 11:00 am and 3:00 pm to  6:00pm. The jungle safari is closed on every Tuesday.
When to Visit
The best time to visit Tadoba is from February to May.
How to Visit
Air: The nearest airport is at Nagpur, 140 km away from the National Park.
Rail: The nearest railway station is at Chandrapur, located 25 km away.
Road: The nearest bus stand is located at Chimur and Chandrapur, located 25 km away.