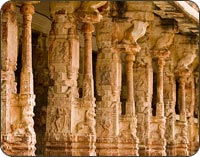 It is the town of architectural delight located on the banks of Malaprabha River in the state of Karnataka. This UNESCO World Heritage Site is situated 22 km from Badami and about 10 km from Aihole. Once the second capital of the Chalukyan kingdom, it is known throughout the world for its 7th and 8th centuries of architectural wonders.
This is the land of architectural ruins which are known for their stone sculptures and carvings. The imposing temple structures of this place are the finest example of convergence of the North Indian and South Indian architecture styles. These magnificent temples imbibe architectural elements of the Dravidian, the Southern, the Nagara and the Indo-Aryan which gives a majestic touch to these monuments.
This place was the second capital of the Chalukyan Empire after Badami.  Pattadakal was the political capital of the Chalukya dynasty and the center of rituals where kings were crowned and festivals were celebrated. The rulers of this dynasty were art patrons which gifted this place with ten beautiful temples along with a Jain shrine which is surrounded by numerous small memorial and plinths.
Major Attractions
Virupaksha Temple
This is the best known temple of this place, which was built by Queen Lokamahadevi (Trilokyamahadevi) in 745 CE. It was built to commemorate her husband's victory Vikramaditya II over the Pallavas of Kanchi. This temple resembles the Kailashnatha temple in Kanchi, which is believed to be the model of this grand structure. The large temple complex consists of a tall vimana attached with axial mandapas which is surrounded by sub-shrines around the court. Adorned with two beautiful gopurams, the temple is surrounded by a wall.
Sangameshvara Temple
This temple is also known as the Vijayewara. It is the oldest temple of this place, which was built by Chalukya King Vijayaditya Satyashraya in 696-733 AD. The structure of this temple is based on Dravidian style, which consists of a Sanctum, Inner passage and a Hall. On the outer wall of this there is an idol of Ugranarasimha and Nataraja, which is known for its intricate design and marvelous carving work. The three storied structure of this temple is full with stone carvings based on various themes and patterns, which are the most attractive features of this place.
Mallikarjuna Temple
This grand temple is similar to the Virupaksha temple which was built by Vikramadiyta's second queen Trilokyamahadevi in 745 CE. The Mallikarjuna is a smaller temple with a four-storied vimana with a circular griva and sikhara. It is among the most visited temples of this place.
Fairs and Festivals
Some of the well known festivals of this place are classical dance festival that is held in the end of January every year. The others are the Virupaksha Temple Car Festival which is held in March and the Mallikarjuna Temple Festival celebrated in March-April.