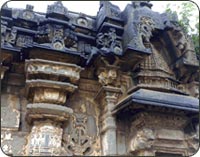 In the religious and spiritual tours to India, Gadag is one of the latest additions. The twin towns of Gadag - Betageri, split from Dharwad District, fall in the Gadag district in the northern region of Karnataka. Located at a distance of 480 km from Bangalore, this small city is frequented for its religious and historic importance.
Significance
The religious town of Gadag is associated with Naranappa, popularly known as Kumara Vyaasa. He is the renowned author of Karnataka Bharata Kathamanjari, which is the classic Mahabharata in Kannada language. Kumara Vyaasa composed his work sitting before Lord Veera Narayana. Moreover, the blind singer Ganayogi Panchakshari Gawayi also belonged to Gadag. His music school is quite famous in the entire region.
Gadag Attractions
The town is generally frequented for its beautifully crafted ancient temples. The architectural pattern of most of the temples belongs to the period of the Chalukya dynasty. Ornate pillars and intricate sculptures are the identity of these temples. Some of the major attractions are:
Trikuteshwara temple complex: This Chalukya temple houses triple shrines (Lord Shiva, Brahma and Surya); has the finest shining decorative pillars, and the image of Goddess Saraswathi.
Veeranarayana temple: Another Chalukya temple in which the great Kannada poet Kumara Vyasa composed his famous Mahabharata.
Two Jain Temples: dedicated to Parsvanatha Tirthankara and Lord Mahaveera.
Dambala temple: The renowned Dodda Basappa temple at Dambala is dedicated to Lord Shiva and belongs to the Chalukya period; renowned for its extraordinary architecture.
St.John's Church: A beautiful Christian shrine known for its peaceful ambiance and divine beauty.
Kasivisvesvara temple and Amriteshwara temple are a few other holy Hindu shrines in the city.
Climate & Best Time To Visit
The temperature of the city varies from
37.3 to 16.5 degree Celsius
. Summer (mid February to May), monsoon (June to September), post monsoon (October & November) and winter (December to February) – every season lets you enjoy a pleasant climate throughout the year.