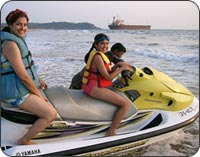 Goa, affectionately dubbed as the "Pearl of the Orient" is truly an epitome of natural beauty. Its most enchanting attraction is its beaches, which offer tourists an out-of-the-world experience. This famous tourist destination of India is aptly called the 'Queen of the Beaches'. It is ideally located on the western coast of India.
Goa is a fascinating land of  mesmerizing beaches, rich marine life, pleasant climate,  coconut and cashew plantations, romantic rivers, dense forests and a wonderful blend of Indo-Portuguese heritage. A variety of attractions are there at this destination. Goa rocks when it comes to fun, adventure and nightlife.
History
Goa holds great historic importance as it witnessed the rule of several empires. However, Goa soaked the culture of Portuguese, who ruled here for over 450 years, like a sponge. Today the Portuguese culture is intricately woven into the culture of Goa. This destination was given the title of 'Tourist Paradise' in the late 60s when hippies started exploring its beaches.
Goa Attractions
Beaches
Renowned the world over for their charm, the beaches are the most striking attractions of this rocking destination of India. An interesting feature of these beaches is that they change their looks and go for a makeover every season, which adds more charm to them. Tourists from across the globe come here for rejuvenating holidays, high-on-entertainment water sports, nightlife and exotic cuisine. Goa offers different categories of beaches such as Crowded Beaches, Adventure Beaches, Party Beaches and Isolated Beaches.
Water Sports
Goa is a dream destination for those inclined towards adventure sports. Tourists can plunge into sports like sailing, para-sailing, wind surfing, scuba-diving, cursing, jet-skiing, water skiing, snorkeling, trekking, hiking and golfing.
Monuments
Goa is also the place where you can find amazing monuments like churches, temples and museums. The main attraction of the churches is their sophisticated architecture. The churched reflect a perfect amalgamation of Catholic and Portuguese architecture. Some of the churches are recognized as the World Heritage Site.
Goa Carnival
Celebrated with great fervor and joy, Goa Carnival is a big celebration attracting tourists in great numbers. It is celebrated for three days in the month of February every year. Feasts, fun, entertainment, dance and musical parades are the highlights of the carnival.
Nightlife
The happening nightlife of Goa also plays an important role in entertaining the tourists. The pubs and restaurants here remain open till late nights. Parties based on different themes are a special feature of the nightlife.