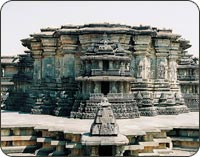 Belur is a temple town popularly known as the 'Banaras' of South India or 'Dakshin Varanasi'. It is located on the banks of River Yagachi in the Hassan district of Karnataka. Earlier the capital of the Hoysala Empire, it is now among the major centres of tourist attraction.
From inscriptions, it is evident that Belur was the capital of the Hoysala dynasty for more than 150 years. Originally, the capital of the dynasty was Halebid, which is loacted 17 kms from Belur, but it was shifted to Belur after it was attacked by invaders the Mallik Kafur. This makes Belur a historical destnation which is full of architectural supremacy and structural grandoise.
Main Attractions
Chennakesava Temple
It is the most important centre of attraction of Belur, which is known for its legendary magnificence and architectural supremacy. This temple is about one hundred feet high with well adorned gopurams built in Dravidian style. It is the monumental evidence depicting the glory of the Hoysala Empire. The main temple is surrounded by a group of shrines, which stand in the center of a rectangular and paved courtyard.
There are two more shrines located in this temple premise, the Kappe Channigaraya is situated on the east of the main temple and a small Lakshmi temple situated on its right. The temple is one of the finest examples of Hoysala architecture. The structures of this temple are decorated with intricate sculptures, friezes and intricate rock carving depicting various themes of Hindu mythology. The main entrance is crowned by Rayagopura, which was built during the days of Vijayanagar Empire.
The ancient jet-black pillars covered with bright vermilion is another attraction of this temple. The main temple is surrounded by Temples of Soumyanayaki and Ranganayaki, who are the beloved of Sri Chennakesava.
Madanikas (Bracket Figures)
The bracketed figurines are known as the Madanikas or celestial nymphs which are inspired by the divine Shantala Devi. These figurines are known throughout the world for their supreme beauty, which captivates visitor's attention. There are 48 bracket figures, which are known for their marvellous sculptural beauty showcasing beautiful, pensive, playful and amorous temper of women. This remarkable artistry glorifies the excellence of this temple.
The shining pillars are other most attractive features of this place, which are known for their unique architectural splendour. The most popular of the shinning pillar is the Narasimha pillar which is known for its filigreed brilliance. This pillar can even be seen in the dark and said to have revolved on its ball bearings once.