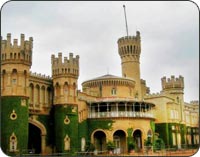 Bangalore, the 'garden city' of India is an important tourist destination of Karnataka. Its rich culture reflects a perfect blend of traditional and modern. It is a land blessed with abundant greenery and pleasant climate. Growing at a fast pace in the world of technology, Bangalore has carved out a special place on the map of India. It is dotted with several blooming gardens and mesmerizing monuments. Bangalore is a major economic hub and the fastest growing major metropolis in India.
History
The glorious history of Bangalore dates back to the paleolithic culture. Several rulers ruled over Bangalore for several centuries. Each dynasty made its own special contribution to the cultural heritage of Bangalore. The Chalukyas left behind their legacy in the form of amazing monuments, especially temples.  Initially Bangalore was known as Bengaluru derived from the two words Benda and Kalooru, meaning baked beans.
Main Attractions
Bangalore attractions encompass magnificent monuments, beautiful temples, sun-kissed beaches, lush green gardens and fascinating palaces.
Lal Bagh
It is a wonderful botanical garden in the city. Its foundation was laid by the ruler of Mysore, Hyder Ali. It houses a famous glass house which serves as a venue for a flower show held every year. It also has an aquarium and a lake.
Cubbon Park
It is also a popular park offering a toy train as an attraction.
Bugle Rock
It is a huge rock located in Basavanagudi. According to the scientific records its age is around 3000 million years.
Bangalore Palace
Fashioned on the lines of the Windsor Castle in England, the Bangalore Palace was built in 1862. Its beauty draws many a tourist.