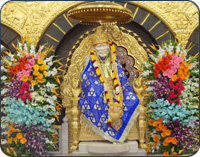 Sai Baba of Shirdi is one of the most worshipped and deeply revered saints of India. Thousands of devotees visit the holy town of Shirdi, located 88 km from Nasik in Maharashtra. The devotional intensity of the devotees creates the powerful religious ambience in this sleepy town. Tourists from all over the world come and experience this life changing aura and peaceful vicinity of this enigmatic town that has been touching the lives of millions of people.


History
Sai Baba, who is also fondly called as the 'Child of God' had been the worshipped for his teachings related to 'Shraddha' (reverence) and "Saburi" (perseverance). Right from the age of 16 years, Sai Baba had dedicated his entire life for the empowerment and liberation of human life from pain and suffering.
Following are the main attractions

Sai Baba Temple
Located 196 km away from Mumbai, this temple was built in 1922 to preserve the mortal remains of saint Sai Baba. The mystical saint's body was cremated in the temple after his death in 1918. White stones are used to make the samadhi while temple is made of stones. The pure Italian made marble-stone of Sai Baba is seated in the temple.
Gurusthan
It is believed that the Gurusthan is that sacred place in Shirdi where the spiritual Guru of Sai Baba attained samadhi (final stage of meditation leading to the surrender of the human body)
Dwarkamai
Pilgrims consider Dwarkamai as one of the irreplaceable treasures of Shirdi. Before the arrival of the saint in Shirdi, it is believed that Dwarkamai was an old mosque in the town, existing in a dilapidated condition.
When to Visit
The best time to visit Shirdi is basically from December to February. Tourists also come to Shirdi to participate in the festivals like Ramnavmi ( March end), Guru Purnima ( July) and Shirdi Vijayadashmi (October).
How to Visit
Air: The nearest airport to Shirdi is located in Aurangabad which is 144 km away.
Rail: The two railway stations which are near to Shirdi are located at Kopergaon (18 km) and Manmad railway station(60 km)
Road: Several public and private buses connect Shirdi with other cities of Maharashtra. The frequency of transport is very regular and well connected.