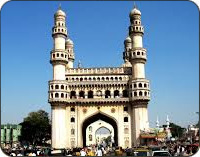 Peacefully nestled in the state of Telangana in the Southern part of India, Hyderabad is fondly called as 'the Pearl City of India.' This city has witnesses eras of innovation and prosperity. Intricately blending the nuances of ancient with the modern, the 'Old City' in Hyderabad reveals a lot of Indo-Islamic architectures in its repertoire. The Hyderabadi cuisine is famous for its lip-smacking cuisines.
History
It was established in 1591 by Muhammad Quli Qutb Shah. It was later recaptured by the Mughals. The Mughal viceroy Asif Jah I declared his sovereignty in 1724, leading to the advent of Nizams of Hyderabad. It was recognised as a princely state during the British Rule. In June 2014, Hyderabad has become the capital of both Telangana and Andhra Pradesh.
Following are the main attractions of Hyderabad:
Charminar
Acknowledged as the global icon of Hyderabad, Charminar is located on the banks of Musi River. Initially it was the located in the centre of the Old City of Hyderabad. The layout of Charminar was framed by Mir Momin Astarabadi who was the Prime Minister during the time of Sutb Shah.
Mecca Masjid
One of the oldest mosques in India, it is included in the heritage sites of Hyderabad. It was commissioned by the Muhammad Quli Qutb Shah. The bricks to construct this mosque were bought from Mecca in Saudi Arabia.
Laad Bazaar
Also known as Choodi Bazaar, is a very old market in Hyderabad where one can buy pearls and bangles. Lacquer is used to make these bangles. This market has been operating right from the time of Qutb Shahs and Nizams.
When to Reach
The winter months from October to February makes the best time to visit Hyderabad. Tourists can also explore the beauty of Ramzaan festival in Hyderbad.
How to Reach
Air: The Hyderabad airport is well connected with domestic flights.
Rail: The three railway stations located in Hyderabad include Nampally, Secunderabad and Kacheguda.
Road: Well paved motor-able roads connect Hyderabad with the other cities in South India.