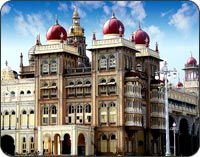 Mysore, the City of Palaces is a famed tourist destination of the mesmerizing state of Karnataka. It is dotted with several royal structures reflecting its glorious history. The dance, music, literature and monuments of this city reflects its rich cultural heritage. Its monuments are some of the finest examples of Dravidian architecture. It is also known for its coffee plantation.
History
The term Mysore originated from distortion of the name 'Mahishasurana Ooru', meaning the 'town of Mahishasura'. Legend goes that Goddess Chamunda, the preceding deity of Mysore, killed the demon Mahishasura who was causing suffering to innocent people. The city is located at the foot of the Chamunda hills. It was once under the rule of the great ruler Tipu Sultan.
Main Attractions
Maharaja Palace
The most sparkling jewel of Mysore, the Maharaja Palace is incredibly stunning. It is an eye-catching blend of Indo-Saracenic and Dravidian styles of architecture. The complex of the majestic palace encompasses several fascinating apartments, which are done to perfection. Built in the 14th century, the palace was the official residence of the rulers of the Woodeyar empire.
Chamunda Hills
These beautiful hills are named after Goddess Chamunda who killed the demon Mahishasura. The hills offer enchanting views of the city.
St. Philomena's Church
One of the largest churches in India, St. Philomena's Church is a perfect example of Neo-Gothic architectural style. It was designed by Reverend Rene Feuge. It has exquisite carvings.
Mysore Dasara
Celebrated with great enthusiasm, Mysore Dasara is the most famous festival of Mysore. Celebrated in the month of September/October, this festival commemorates the victory of good over evil. The festival is marked by various rituals and cultural events. The entire city is illuminated during the festival.
Shopping in Mysore
You can buy a variety of handicrafts from the colourful bazaars of Mysore. The famous handicrafts are sandalwood articles, oil, rosewood items, silk saris, brass ware, wooden furniture, perfumes, incense sticks, coffee, sandalwood powder and lacquer ware.