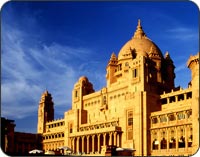 Jodhpur, the oasis in the desert is affectionately dubbed as the Sun City of India (for its sunny weather). It is also known as the 'Blue City' as most of its buildings and structures are painted in blue. Its palaces, forts, monuments, museums, lake ,gardens and fairs and festivals speak oodles about its rich cultural heritage. Located on the edge of the Thar Desert, it is the second largest city in Rajasthan. The charm of Jodhpur captured the heart of the famous Rudyard Kipling who shot some of the scenes of his film the Jungle Book in this city.
History
The enchanting city of Jodhpur was founded by Rao Jodha, the erstwhile ruler of the Rathore clan, in the 15th century. Later the Mughals and then the British also ruled over Jodhpur.
Main Attractions
Mehrangarh Fort
It is a massive and mesmerizing fort consisting of royal structures(palaces) within its boundary. These palaces are enveloped in beauty to the hilt. Built by Rao Jodha, the fortified fort is located on a hill. It houses a museum which has several amazing galleries. The museum displays possessions belonging to the erstwhile rulers.
Umaid Bhawan Palace
It is a stunning structure located on the Chittar Hill. It is one of the largest residence in the world. One of its striking features of the palace is that it always maintains pleasant climate. Its interiors are simply breathtaking. Once the royal abode of the erstwhile ruler, it has now been converted into a heritage hotel.
Jaswant Thanda
It is a a beautiful memorial built in honour of the ruler Jaswant Singh II.
Desert Kite Festival
Held at international level, Desert Kite Festival attracts participant from India and abroad. It is celebrated with great enthusiasm. The cultural activities such as music and dance are the other attractions of the festival.
Cuisine
Tourists must try out the famous culinary delights of Jodhpur such as Mawa Kachori, Pyaaj Kachori, hot and spicy Mirchibada( prepared from potato, onion, chili and gram flour) and Panchkuta.
Shopping
Jodhpur is well known for its colourful handicrafts like tie and dye fabrics with silver and golden embroidery, paintings, leather crafts, wooden articles, furniture, silver jewellery and juttis.