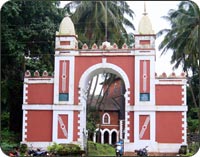 Konkani culture – an amalgamation of ancient traditions, festivities, art forms and peace loving people. If you love to travel, plan a trip to the Konkan belt of Maharashtra. This entire region offers pleasant mountain ranges, serene lakes, dense forests and mouth watering culinary spreads. Once you arrive Sawantwadi, you will feel every bit of the Konkani flavour. This renowned taluka in the Sindhudurg district also serves as one of the gateways to the enchanting Goa.
Natural Beauty
The best part with Sawantwadi's beauty is that it is surrounded by verdant forests and hillocks from three sides and the majestic Arabian Sea from the fourth quarter. Wildlife lovers can also spot a number of animals like leopards, bison, tiger, wild boar etc. in the dense woods here. Moreover, the town is rich in terms of flora as well, which include several medicinal herbs and trees.
Economy
The major charm of the town lies in its wooden toys and woodcraft industry. The local artisans of Sawantwadi are expert in kalasutri, pottery art, traditional art paintings and chitrakathi. Apart from that, the local markets can be seen loaded with coconut, cashew nut, betel nut, fish, and wonderfully crafted handicraft items.
Historical Aspects
The town is named after Sawant Bhonsale dynasty. The royalty and grandeur of the dynasty can still be seen in the Great Royal Palace, Lester gate, Atmeshwar Tali, Kolgaon darwaja, and Vithal Mandir.
Gandhi Ji was so impressed with the beauty and peaceful ambiance of the town that he called it 'Ramrajya'.
Prominent Attractions
Sawantwadi Palace
This beautifully crafted Royal Palace is built amongst the picturesque surroundings. One can spot amazing collection of traditional lacquer ware goods inside the palace like antique furniture, chess and board games, little dolls, chitkaris (painting), wooden and clay artifacts and jewellery.
Moti Talao
The centre of attraction in Sawantwadi, this graceful lake and its superb garden together forms a romantic spot to spend some quality time with partner. Newly wed couples can be spotted boating on the lake. The Narendra hills stand tall in the backdrop of this serene lake. Children love to go swimming here.