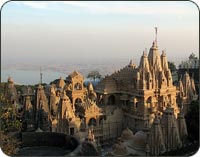 Palitana is located 51 km south west of Bhavnagar in the state of Gujarat. This is among the spectacular destinations which is known throughout the world for its majestic temple, beautiful beaches and wildlife. It is the most famous Jain pilgrimage centre in India. Shetrunjay hill of this place is mentioned in the Guinness book of world records due to the maximum number of temples on a single hill. There are more than 800 temples on the hill, which are dedicated to Jain Tirthankars.
Palitana is among the holiest places of Jainism. It was the capital of a princely state of the Gohil Rajput clan. The temples at Shatrunjaya Hill were supposed to be built in the 11th and 12th centuries as a part of the revival of temple buildings project all over India. The earliest temples of this place were built in the 11th century which were destroyed by Muslim invaders. Later several rich merchant and members of the royal families of Rajasthan and Gujarat donated hefty amount to restore the destroyed legacy of Palitana.
Major Attractions
Shatrunjaya
This hill is one of the holiest pilgrimage sites of the Jain. There are more than 800 temples located on the hill, which are dedicated to Jain Tirthankars. This place is so sacred that none is allowed to stay on a hilltop after sunset and even the priests leave the temples at dusk. At least once in a lifetime this sacred tirtha (i.e. pilgrimage) is visited by the Jain to get the  blessings.
Chaumukh Temple
Among the 800 temple, the most important temple is the Chaumukh temple. This temple is known for its four-faced deity of Adinath enshrined on a marble base in a shrine which is open from all four sides. It was built in the 17th century which is probably the most plentifully decorated temple of this region. This temple is known for its ornate pillars, decorated roofs and intricate carvings of marvel.