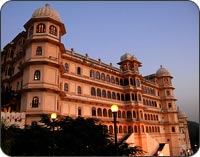 Hemmed in by the Aravali ranges, dominated by stunning palaces and beautified by romantic lakes, Udaipur is an overwhelming city. Fondly dubbed as the 'Venice of East', Udaipur is the most romantic destination of Rajasthan. It has inspired many a poet and film maker. Its palaces, lakes and gardens reflect the glory of the Rajput-era.
History
The city of Udaipur was founded by Rana Udai Singh around 1200 years back. It was once the capital of the Rajput kingdom of Mewar.
Main Attractions
Lake Palace
One of the most enchanting palaces of Rajasthan, Lake Palace is ideally set amidst lake Pichola. Traditionally decorated and majestically built in white marble, the palace is a five-star heritage hotel offering a royal experience to its guests.
City Palace
Overlooking the romantic Lake Pichola, City Palace is a mesmerizing royal structure built by Maharaja Udai Singh. It is the largest palace complex in the state with several beautiful palaces, courtyards, corridors, pavilions, terraces, rooms and gardens.
Lake Pichola
It is an arresting man-made lake where you can enjoy a boat ride. It also offers picturesque views of Lake Palace and City Palace.
Jag Mandir
Set on the island of Lake Pichola, Jag Mandir is known for its exquisite carvings. It was built by Maharana Karan Singh.
Sahelion Ki Bari
Its a lush green garden built by Maharana Sangram Singh in the 18th century. The charm of the garden lies in its greenery, pools with beautiful kiosks, flowerbeds, lawns, fountains and a variety of trees.
Vintage Classic Car Museum
The museum houses a variety of classic cars once used by the raja-maharajas of Rajasthan. Different in shapes and sizes, these cars are a must-see attraction of Udaipur.