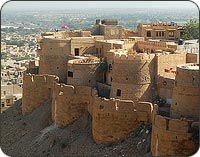 The pride of the land of raja-maharajas, Jaisalmer is a city offering the real taste of Rajasthan. Affectionately dubbed as the 'Golden City'( as most of its structures are made of yellow sandstone), Jaisalmer is dramatically located in the heart of the Great Indian Thar Desert on the top of the Trikuta Hill. It captures the hearts of tourists with its astonishing attractions such as massive fort, stunning havelis, interesting camel safaris, colourful festivals and unfathomable sand dunes.
History
Jaisalmer was established by Rawal Jaisal, a successor of the Yadav Clan, in 1156 AD. During the medieval times, this city was an important trade route connecting India to Egypt, Arabia, Persia, Africa and the West. According to the legend Lord Krishna predicted to Arjuna that in future a descendant of the Yadav clan would establish his kingdom on the Trikuta Hill. And later this kingdom came to be known as Jaisalmer.
Jaisalmer Attractions
Jaisalmer Fort
Dominating the land of Jaisalmer, this fort is one of the most famous attractions of the city. This architectural masterpiece was built by Rawal Jaisal in 1156. This golden beauty majestically compliments its rustic surroundings. Reflecting a perfect marriage between the Rajput and Mughal architecture, this fort is the second oldest fort in Rajasthan. The Raj Mahal, Jain temples and Laxminath temple are its key attractions. A film was made on this fort by the famed Indian film maker Satyajit Ray.
Havelis of Jaisalmer
Patwon Ki Haveli
Exquisitely carved and beautifully decorated, this haveli is the most opulent haveli in the city. Built in yellow sandstone, it consists of five separate houses.
Salim Singh Ki Haveli
Its arched roofs and flawlessly carved brackets in the form of the national bird peacock leave the onlookers spell bound.
Nathmal Ji Ki Haveli
Its ornamental beauty never fail to capture the hearts of the visitors.
Sand Dunes and Camel Safari
Offering a fairytale experience, a camel safari on the unfathomable sand dunes of Jaisalmer is a must for tourists.
Desert Festival
Showcasing the rich cultural heritage of Jaisalmer, this festival is marked by camel races, camel dances, camel acrobatics, best dressed camel competition, camel polo and tug of war.
Shopping
The bustling bazaars of Jaisalmer offer a variety of handicrafts such as puppets, embroidered jutis, tablecloths and rugs in mirror work, textiles, camel leather items, stonework, tie and dye fabrics and wooden boxes.