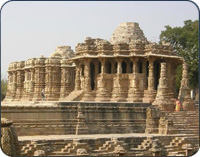 Modhera is a small village, located 106 km away from Ahmedabad, in Gujarat. The rustic, natural and non-commercialised beauty of Modhera makes it a sought after destination, especially to unwind one's life. Its two main attractions are the historic sun temple and the three day dance festival.
History
It has always been known by different names such as Ved Bhuvan, Satya Mandir, Dharmaranya and Moherakpur. It is believed to be the auspicious birthplace of Modh Brahmins and Modh Baniyas. It is said that Lord Shiva also resided here and was called as Dharmeswar. Mythologically, Modhera was a sacred pilgrimage established by the Gods.
Following are the main attractions of Modhera
The Sun Temple
The 11th century Sun Temple built in Modhera was built by King Bhimdev I in 1026-27 AD. Its one of the greatest architectural marvels of the Solanki dynasty. It is quite simple to the Konark Temple in Odisha. This Sun Temple is located on the banks of the river Pushpavati. The Archaeological Survey of India has taken the role of preserving this temple. Now, prayers are not offered here.
Dance Festival
To create the royal, historic and charming past alive through enactments, dance festival is celebrated in the month of January every year. The back drop of the majestic Sun Temple further adds the ambience. The Tourism Corporation of Gujarat organises the festival.
When to Visit
One can visit Modhera at any time of the year. The Sun Temple remains open from 5:00 am in the morning till 9:00 pm.
How to Visit
Air: The nearest airport at Ahmedabad is 102 km away.
Rail: The nearest railway station is at Becharaji, located 16 km away.
Road: Regular bus services are available from Ahmedabad and Mahesena.