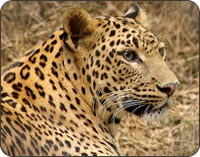 Sariska is located in the Alwar district of Rajasthan State. Set against the mesmerizing backdrop of Aravalli mountain range, it is one of the high-flying tourist spots of Rajasthan. It is visited by a great number of tourists throughout the year. The tourist attraction in Sariska includes rich wildlife, the historical buildings located inside and near the national parks and the fairs and festivals of this region.
Main Attractions
Sariska National Park
Sariska National Park is one of the most visited and best known protected forests in India. The backdrop of Aravalli mountain range, offering picturesque views, adds extra charm to this place. The park covers an area of 866 square kilometers and was once the hunting ground of the ruler of the erstwhile Alwar state. In 1955 it was declared as a wildlife sanctuary and in 1978 under India's Project Tiger scheme it became a Tiger Reserve.
The Sariska Wildlife Sanctuary is composed of cliffs, narrow valleys, and dense forest inhabiting a variety of wild animals. The better understanding of Sariska ecology offers a bright chance to see resting, roaming and hunting tigers. Apart from the wild watch of tiger you can also see predators like panther, jungle cat, jackal, hyena, and fox. The other animals found here are sambhar, chital, wild boar, hare, nilgai, civet and many more.
Siliserh Lake
It is another natural wonder of Sariska. This lake is the habitat of a large number of water species including crocodile, amphibians, snakes and many water birds. During the migratory season this lake teems with colorful birds which make this an engrossing place. Boating in this lake provides you a chance to feel close to nature.
Kankwari Fort
The Kankwadi Fort was built by Jai Singh II. Exotic location of the fort makes it one of the favorite places to spend your tour in a royal way. The royalty of the fort can be seen in its well designed structure. This fort is located in hills and provides panoramic view of the surroundings. The fort reveals its historical saga through its preserved monuments.  The history quotes that it is the fort where the Mughal Emperor Aurangzeb had kept his elder brother, Prince Dara Shikoh in captivity.
Neelkantha Temples
It is one of the oldest temples in Alwar. This temple was built around in the period  between 6th and 13th century. Despite of its ruined structure the temple is still functional attracting devotees from far and wide. Various mythological stories are associated with this temple. Due to its mythological importance it is one of the famous centers of Alwar.
Sariska is endowed with natural and cultural beauty. The off-beat tour to villages offers the glimpses of cultural beauty. The culture of Sariska is derived from the audacious history of Rajasthan.  During the festival season one can see the vibrancy of local culture in the form of various folk arts based dramas.