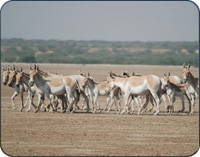 Basically the Kutch Desert Wildlife Sanctuary is divided into Greatern Rann and Little Rann. The Greater Rann includes a desert wildlife sanctuary while the Little Rann contains the wild ass sanctuary. The distinct population of Wild Ass in Gujarat is the characteristic trait of Gujarat's bio-diversity. It is situated in the Kutch district of Gujarat. The Rann of Kutch is a marshy land due to the inward flow of sea water.
History
The Wild Ass Sanctuary at the Little Rann of Kutch was established in 1972. It is the largest wild ass sanctuary in India. In fact, its only in this geographic domain where the endangered species of Indian Wild Ass can be spotted. Currently, it has been nominated by the Forest Department to be included as a biosphere reserve.
Following are the main attractions:
Safari
The ideal way to make most of the trip to the Little Rann of Kutch includes taking a safari tour. These are available from Dasada, Zainabad and Dhrandadhra. One can also take local jeeps. Camel riding and camel carts are also available.
Fauna
Apart from the Wild Ass, the other endangered species found in the Little Rann of Kutch includes Indian antelopes, blue bulls, Nilgais and the Indian Gazelles. The other carnivores present in this sun-burnt territory includes hyenas, indian fox, wolf, jackals and jungle cats.
Salt Panes
Travellers can also have a look at the process of salt preparation here. Ample salt panes are located at the periphery of the Rann of Kutch. The local salt manufacturers are also called as 'Agarias.'
When to Visit
The best time to visit Little Rann of Kutch is from October to March.
How to Reach
Air: The nearest airport is at Ahmedabad, 190 km away from the Little Rann of Kutch.
Rail: The Dhrangadhra railway station is located 18 km away from the sanctuary.
Road: The state transport buses connect Dhrangadhra and Halvad with other important cities of Gujarat.