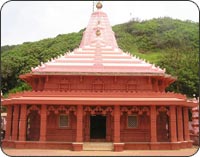 "Whatever I am offered in devotion with a pure heart - a leaf, a flower, fruit or water - I accept with joy." – Bhagvad Gita Quote
India is a country of religions, beliefs and devotion. On a religious tour to India, you may come across a number of pilgrimages that draw countless tourists from all over the world. Ganapatipule, set along the western coast of Maharashtra, is one such small little village, which is visited for its highly revered Ganapati Swayambhu Temple as well as the picturesque beach. Named after Lord Ganapati or Ganesha, this secluded town is dotted with dense palm trees and small fishing villages.
Significance
Because of the ancient Ganapati Swayambhu Temple, the small town of Ganapatipule is considered as one of the eight significant Ganapatis (Ashta Ganapatis) of India.
Ganapatipule Attractions
Swayambhu Ganapati Temple
This 400 year old Ganesha temple is known for its unique idol of Ganapati built on pule (white sand). The image of Lord Ganesha, placed in the Sanctum Sanctorum, is considered to be made naturally (Swayambhu). The hill on which the temple is located, has an interesting Ganapati-shaped walk of 1 km – called 'Pradakshina' – a way of respect shown by the devotees to the deity.
Ganapatipule Beach
Situated on the Konkan coast of India, the beach is a wonderful site to spend quality time with family, friends of partner. The sunset view is simply superb when the sky turns crimson red. Recently, with emerging tourism industry, a few exciting activities and sports are also introduced to the beach.
Malgund
Located at a close proximity to the town of Ganapatipule, the small village of Malgund is home to the famous Marathi poet 'Keshavdoot' who pioneered modern Marathi poetry. People visit the place for his beautiful monument and the museum that exhibits the works by various modern day Marathi poets.
Ratnagiri
This district town of Ganapatipule is full of historical and cultural attractions. The house of Lokmanya Tilak, now Tilak Smarak, is favourite among all the history buffs. Apart from that, Patit Pawan Mandir (first temple for non-brahmins), Ratnadurga Fort, Bhagivati Bunder and the Coconut Research Centre are some other interesting places to visit in Ratnagiri.
Food / Cuisine
The rich preparations of Ganapatipule are world famous for their awesome taste and unique aroma. Ambapoli (thin pancakes of crushed and dried mango), Phanspoli (thin pancakes of dried and crushed jackfruit), fish curries, Kokam Kadi (a pink coloured digestive drink) are some of the specialties of Ganapatipule. Moreover, you can also find various dal preparations and vegetables prepared with a coconut base in almost all the restaurants. A sweet 'modak' is also quite popular here.