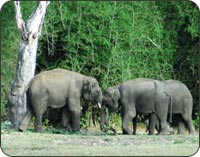 Kabini
Countless wildlife attractions, dense woods, picturesque lake and divine green landscapes – welcome to Kabini, a paradise for all the wildlife lovers, located 80 km from Mysore and 205 km from Bangalore. Once the private hunting lodge of the Maharaja of Mysore, today Kabini is one of the best wildlife sanctuaries in Karnataka.
Kabini Wildlife Sanctary
Comprising the south-eastern part of Nagarole National Park, the Kabini Wildlife Sanctuary lies on the banks of River Kabini and covers an area of about 55 acres. Nature lovers can also spot forestland, steep valleys and water bodies in the wildlife sanctuary itself.
While exploring the dense greens, one can easily spot herds of elephants busy in various activities. The surprising part with Kabini Wildlife Sanctuary is that despite of being an isolated destination, the largest congregation of Asiatic elephants inhabit this place only in India. Apart from that, you may also come across various other animals like langurs, chital, sambar, bison, sloth bear, pythons, crocodile and sometimes even a tiger or leopard. The reserve is also home to about 250 avifauna (bird) species. The best wildlife trips to Kabini are recommended between November and June.
Safari
Jeep Safari is the best way for wildlife sighting in Kabini. You can take your camera and capture the rarest of moments in it. Besides, some tourists also love to go for an elephant safari. A boat cruise in the Kabini river is also a remarkable experience. You can book your accommodation in the local lodges and enjoy nature walks as well.
Kabini River
This picturesque river, originating in Wayanad District of Kerala from the confluence of the Panamaram River and Mananthavady River, flows towards east to join the Kaveri River at Tirumakudal Narasipur in Karnataka. Stretching to the Bay of Bengal, this river forms a huge reservoir, which is quite rich in wildlife. The backwaters also form to be interesting camping sites.
Best Time To Visit Kabini
October to May is considered an ideal time to visit the Kabini Wildlife Sanctuary. This is the time when you can spot various colourful species of migratory birds as well. The months of June to September are avoided because the region witnesses heavy rainfall.
Bandipur Wildlife Sanctuary
Housing thousands of varieties of flora and fauna, Bandipur Wildlife Sanctuary, in the southern part of Karnataka, is a wonderful place to unwind with nature by your side. Established by the Maharaja of Mysore in the year 1931, the sanctuary today covers an area of about 800 sq km. Also known as Venugopala Wildlife Park, after the residing deity of the shrine located here, it comes under the Project Tiger Scheme.
The Moyar , Kabini and Nagur rivers add to the beauty of the place and the tourists love to visit the place during summer months (from March to May) when animals visit the rivers frequently or during the monsoon (June to October) when Bandipur comes alive with greenery all over. Apart from safaris, tourists can also indulge in activities like boating, fishing, bird watching, trekking and photography.
Flora & Fauna
Ranging from Tectona Grandis to Bambusa Arundinacea, Dalbergia Latifolia, Terminalia Tomentosa, Anogeisus Latifolia, Terminalia Chebula, Pterocarpus Marsupium, Adina Cordifolia, Randia Uliginosa and Amblica Officianalis – Bandipur is full of countless flora species.
When it comes to fauna, you need to keep a look out for tigers, elephants, sloth bear, four horned antelope, sambar, chithal, gaur and many other animals. If you are visiting the place during monsoon, you can also spot various colourful birds like the Grey Jungle Fowl, Malabar, Trogon, Woodpecker, Weaverbird, Brown Hawk Owl, Weaver bird, Kingfisher, Bay Owl, Warbier etc.
Safari In Bandipur
If you wish to explore the greens of Bandipur Wildlife Sanctuary, open jeep safaris and elephant safaris are considered the best.