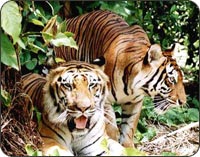 Ranthambore National Park takes pride in its fascinating wildlife which ranges from the Royal Bengal Tiger to a variety of colorful birds. It is located in the Sawai Madhopur district of Rajasthan. Apart from its rich wildlife species it is also famous for its other attractions like Ranthambhor Fort, the Talabs, the Jogi Mahal, The Ganesh Temple. The most propitious time to visit the Park is from October to June.
History
A hunting ground of the erstwhile Maharajas of Jaipur, now tigers can be observed here in the wild. It was declared a Project Tiger reserve in 1973. Covering an area of 392 sq km, it has a picturesque landscape.
Attractions
Ranthambhor National Park is the only dry deciduous tiger habitat in the world.  Located in the Sawai Madhopur district of Rajasthan, it is famous for its tigers and other enchanting wildlife. The other inhabitants of the Park are Leopards, Chinkara, Striped Hyenas, Nilgai, Indian Porcupines, Jackals, Sambar, Indian Flying Foxes, Black bucks, Desert Cats, Indian False Vampires, Small Indian Mongoose etc.
Common Kraits, Cobras, Rat Snakes, Tortoise, Desert Monitor Lizards, Indian Pythons, Saw-scaled Vipers, etc. are few names of the reptiles that exist in this national park.
The most promising sites for tiger sighting are Padam Talab, Raj Bagh Talab and Milak Talab. A variety of beautiful and colorful birds are also spotted here, including the migratory ones.
Built in the 10th century, the Ranthombhor fort in the Park is a wonderful attraction. Jogi Mahal is another attraction here which houses the second-largest Banyan tree in India.