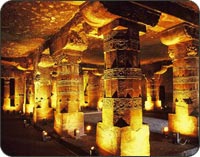 The incredible Ajanta Caves are located near Ajanta village in Aurangabad district of Maharashtra. These caves are considered to be the most beautiful Buddhist caves of India. Recognized as a World Heritage Site, Ajanta Caves attract tourists from across the globe. The shining history of these caves dates back to the 2nd century. A National Geographic edition reads, "The flow between faiths was such that for hundreds of years, almost all Buddhist temples, including the ones at Ajanta, were built under the rule and patronage of Hindu kings."
Although there are several caves here but only 30 are in good condition. The caves no. 9, 10, 19, 26 and 29 are known as Chaitya-grihas and the rest are called monasteries. The walls of the caves are adorned with exquisite carvings.
The paintings inside the caves are its striking attractions, which were made during the period between 5th to 7th century. Most of the paintings discovered in the caves depict Buddhist religion. Majority of the paintings feature Lord Buddha, Bodhisattvas and the incidents from Buddha's life. Some depict scenes from the semi-mythological history. A few paintings showcase Greek and Roman elements. And there are some which are Chinese in style. The raw material used for making the paintings came from the local area.
Ajanta Caves are in a wooded and rugged horseshoe-shaped ravine. The architectural brilliance of these caves leave the onlookers spell bound. The oldest caves here were built when the Hinayana sect of Buddhism was flourishing in India. Set amidst peaceful surroundings, these caves were carved out of a giant rock. These caves were built with an aim to provide accommodation to the Buddhist monks who were ardently dedicated in spreading the teachings of Buddhism. And today they are one of the most fascinating attractions of India.