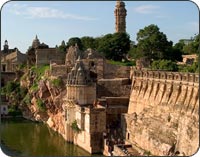 Chittorgarh is the land synonymous with bravery and chivalry. It is a rustic city located in the royal state of Rajasthan. Every corner of this destination echoes the tales of heroism and sacrifice of the era of raja-maharajas. Chittorgarh is famous for its historic Chittorgarh Fort.
History
Chittorgarh, the pride of Rajasthan was once the capital of the Sisodia clans of Rajput and of Mewar. Chittorgarh faced attacks three times and each time the people fought bravely. Here Jauhar (Jauhar refer to the voluntary deaths of men and women of the Rajput clan in order to avoid capture and dishonour at the hands of their enemies) was committed thrice by the ladies and children.
Main Attraction
Chittorgarh Fort
The Chittorgarh Fort is the largest fort of India. The most famous fort of Rajasthan, Chittorgarh fort is perched on 180 m high hill. The legend goes that the foundation of the fort was laid by Bhima, one of the Pandavas of the Great Hindu Epic Mahabharata. Later more structures were added to the fort by the successive rulers. Covering an area of 700 acres, the fort has several wonderful structures. It is also know as water fort as it houses 84 water bodies including ponds, wells and step wells, out of which only 22 exists now.
The fort encompasses several beautiful palaces such as Rana Kumbha Palace, Fateh Prakash Palace, Padmini's Palace, showcasing the romantic era of the Rajputs. Other structures in and around the fort are Vijay Stambh, Kirti Stambh, Sammidheshwara Temple, Gaumukh reservoir, Bhimtal Tank, Neelkanth Mahadev Temple, Meera Temple, Kumbha Shyam Temple and Kalika Mata Temple.