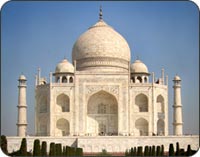 The very word Agra conjures up the images of the incredible Taj Mahal. Agra is a legendary city housing one of the Seven Wonders of the world- The Taj Mahal. The city has a glorious history. The city is located on the banks of the Yamuna River in the state of Uttar Pradesh. It also finds mention in the Great Hindu epic Mahabharata as Agrevana or 'the border of the forest'.
History
According to the legend Agra, the Medieval city, was founded by Raja Badal Singh in the 15th century. Once the seat of the great Mughal Empire, Agra is well known for its Mughal architectural masterpieces.
Main Attractions
Taj Mahal
The romantic poetry in white marble, Taj Mahal is the finest example of the Mughal architecture. It was built in 1632 by the Mughal Emperor Shah Jahan in memory of his beloved wife Mumtaz Mahal. Today tourists from across the globe come to Agra to see Taj Mahal. It is one of the Seven Wonders of the world. Its architectural beauty is simply unmatched.
Agra Fort
It is a mesmerizing architectural masterpiece recognized as a World Heritage Site. Carved in red sand stone, the fort houses several beautiful structures such as Moti Masjid , Diwan -E-Am, Diwan-E-Khas and Musamman Burj.
Fatehpur Sikri
Located near Agra, Fatehpur Sikri is a historic city established by the Mughal emperor Akbar. It is a World Heritage Site with wonderful attractions like the Tomb of Salim Chisti, Buland Darwaza, Diwan-e-aam and Diwan-e-khas.
Jama Masjid
It is a beautiful mosque built by the Mughal Ruler Shah Jahan in 1648. Its Iranian architecture is really wonderful.
Shopping in Agra
Agra is well known for its inlay work, marble articles, leather ware, brass ware, zari embroidery work, stone inlay work, carpets and jewellery. One must not miss Petha(sweet) when visiting Agra as the city is famous for its delicious Petha.