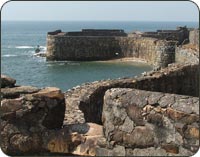 Wish to explore the virgin beauty of a secluded place? Sindhudurg in Maharashtra is the place to be. If you are planning for a relaxing vacations, far away from the hustle bustle of the urban life, with your family or friends, Sindhudurg is an ideal destination that is still untouched by the forces of modernization. Situated along the Konkan coast, Sindhudurg is located a close proximity to Goa and is surrounded by the Arabian Sea on the west & Sahyadri hill ranges on the east.
Significance
The town is named after the majestic Sindhudurg Fort and is an important historical place in Maharashtra. Earlier, the town was a strong naval base of the Maratha rulers and the Sindhudurg fort was a testimony to the Maratha supremacy and power under the great Maratha ruler Shivaji.
Major Attractions
Sindhudurg is a wonderful place for history buffs, nature lovers, art lovers and all the routine vacationers.
Sindhudurg Fort is the prime attraction of the town, which still retains the age old glory of the Marath dynasty.
Within the premises of the fort, one can visit various temples dedicated to Goddess Bhavani, Lord Mahadeo, Devi Jarimai, and Mahapurush.
Moreover, the fort also houses a temple dedicated to the great King Shivaji, which is the only shrine of its kind in India.
Kunkeshwar temple, Rameshwar temple and the Redi Ganapari temple are a few other religious Hindu sites located in the nearby areas.
For nature lovers, this small but beautiful town offers serene and picturesque beaches.
Amboli waterfall and hill station is also a nice excursion site.
If you are an art lover, the town is renowned for its traditional art forms like Dashavtar, Chitrakathi, Pangul, Keertan and Dhangiri dance.
If you visit the market area, you will find a number of shops loaded with tropical fruits like Alphonso mangoes and Jamuns along with good quality cashews. The entire Sindhudurg town consists of 8 Talukas (namely – Deogad, Vaibhavwadi, Dodamarg, Kankavali, Malvan, Ukudal, Venjerla and Sawantwadi), which are carved out of the famous Ratangiri and Kolhapur districts.