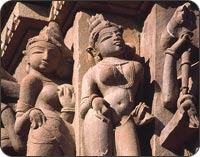 Tourists from across the globe travel to Khajuraho to see its erotic sculptures and fascinating temple architecture. It is ideally located in the forested plains of the region of Bundelkhand in Madhya Pradesh. It is a small and beautiful village known for its rich cultural heritage. Recognized as a World Heritage Site, Khajuraho boasts of the wonderful temples. This village is synonymous with eroticism, passion, dance and music.
History
Khajuraho is an ancient town which was one the seat of the Chandela dynasty. Its famous temples dates back to the period between 9th to 12 th century. Initially there were 85 temples in the village but over the period of time majority of them got ruined and now only 20 are left.
Main Attractions
Khajuraho is a perfect melange of history and architecture. Its temples are its architectural marvels which were built in Nagara style of architecture of the medieval period. The outside walls of the temples are exquisitely carved with erotic sculptures but there is no such sculpture inside the temples. There are several interpretations of these erotic sculptures. According to one of the interpretation, for seeing the deity one must leave his/her sexual desire outside the temple. Another interpretation says that divinity is pure like the atma(soul), which is not affected by sexual desires and other characteristics of the physical body.
These fascinating temples also serve as the venue for an annual mela on the occasion of Shivaratri which is celebrated here as the wedding of Shiva. This living tradition fits in with the new theory about Khajuraho that the temples were built as wedding chariots for the gods who came to attend the wedding. The temples are divided into The Western Group of temples, The Eastern Group of temples and The Southern Group of temples.
Khajuraho is a land of history, architecture, culture and environment with amazing beauty. It is a peaceful village with picturesque landscape. Its architectural jewels and refreshing surroundings attract many a tourist from different parts of the world.
Khujaraho Festival of Dance
Its main highlight is the dance and music performances by the renowned Indian classical dancers. It is celebrated in the month of February/March.
Shopping
Shopping is a great experience here . Khajuraho is famous for its handicrafts and handlooms. The most famous handicraft here are the miniature stone-carved replicas of the erotic sculptures, which are quite popular with tourists.