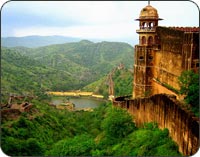 Jaigarh Fort is a massive architectural structure reflecting the glory of the Rajputs. Perched on a hill named 'Cheel ka Teela' (hill of eagles), the fort is affectionately dubbed as the 'Victory Fort'. It is located at an easy distance (15 km) from the Pink City Jaipur. This fort is well connected to the famous Amber Fort located at the bottom of the hill. The fort is truly worth a visit.
History
Jaigarh fort was built by the erstwhile rulers in the period between 15th to 18th century.
The aim behind the construction of the fort was to tighten the security of Jaipur and Amber. May be that is the reason why the fort is rustic and not artistic.
Attractions
The complex of Jaigarh Fort encompasses structures like palaces, a granery, a well planned cannon foundry, a huge tower and temples. Here you can see a variety of weapons belonging to the rulers of the bygone era. In fact, the fort houses the world's largest cannon on wheels, the Jaivana. It was cast in 1720 during the rule of Maharaja Sawai Jai Singh II of Jaipur. You can see a variety of cannons here.
There are several water channels in the fort, which were once a part of the rainwater harvest system. Out of the three underground tanks in the fort, the largest one has the capacity of storing 60,00,000 gallons of water.
The fort museum displays a rare collection of puppets, coins, royal pictures, a pack of cards and many more royal articles. Inside the armory several swords, shields, guns, muskets and a 50 kg cannon ball are on display.
A visit to the Jaigarh Fort will transport you to the days of raja-maharajas.