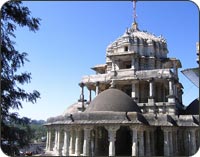 Dilwara is the sacred Jain pilgrimage site which is located approximately 2.5 km from Mount Abu. It is known for its five legendary marble temples which are considered to be among the most beautiful Jain temples in the world. These temples are known for their excellent architectural beauty of intricate carved ceilings, entryways, panels of marvel carvings, marvel sculptures and inlay work. The Dilwara temples were dedicated to the Jain tirthankars. This holy place also houses several manuscripts and treatises of Jain. 
These magnificent temples at Mount Abu were constructed between 800 - 1200 AD. Merchants of Gujarat and Rajasthan were the great patrons of arts and architecture and contributed a lot in the development of these Jain Temples. The Dilwara Jain Temple was built in the Nagara architectural style which is famous for its designs and decorations. Based on inscriptions of these temple historians say that it was the seat of Shaivism and Jainism.
Dilwara Attractions
Dilwara Temples are among the famous pilgrimage sites for Jains which is also visited by a number of people from various religious sects. These temples are known for their architectural splendor. Set amidst picturesque hills, these shrines are carved out of white marvel. They are known for their carved ceilings, entryways, pillars and panels. The five shrines of the temple are dedicated to Lord Parshvanath, Lord Mahavir Swami, Lord Adinath, Lord Neminath and Lord Rishabhdeo.
The well known temples of this place are Vimal Vasahi Temple, Luna Vasahi Temple, Pittalhar Temple, Parshvanatha Temple and Mahavir Swami Temple. All these temples are known for their unique identity in terms of architecture, construction and decoration. The Vimal Vasahi Temple is the most grandiose one.
Vimal Vashi Temple
This is the most important temple of this place dedicated to the first Jain Tirthankara Adinath. This was built in 1021 AD with the contribution from Vimal Shah, a minister of a local Rajput ruler Maharaja Bhimdev I.  It is located amidst an open courtyard and is surrounded by 58 cells or kulikas which house small icons of the image that is placed in the main shrine. Made up of white marble, the temple is  98 ft in length and 42 ft in breadth. The grand hall of this temple is known as Rang Mahal which is supported by 12 decorated pillars.  The engraved designs of petals, flowers, lotus buds and scenes of Jain and Hindu mythology cover the whole ceiling of the temple.