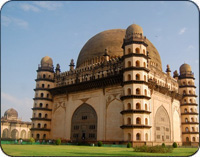 The district of Bijapur in Karnataka is a blend of South Indian history, architecture and culture. It is one of the best endowments to envisage the Islamic architecture in South India. British administrator and novelist Philip Meadows Taylor has been mentioned about Bijapur's ethnic diversity and rich cultural heritage in 1866.
History
It was summoned as 'Vijayapura' (the city of Victory) in the 10th and 11th century AD. It was established by the Kalyani Chalukyas. After the demise of Chalukyas, the city was passed onto the Yadavas. Later, the Brahmani Sultanate of Gulbarga conquered it in 1347. It was only re-assigned as a part of Karnataka state in 1956.
Following are the main attractions:
Gol Gumbaz
This mausoleum of Muhammad Adil Shah reveals the exquisite blend of Indo-Islamic architecture. It is known for its unique acoustic features and amazing dimensions. The architect Yaqut of Dabul had constructed it in 1656. It is lauded as the ''structural triumph of the Deccan architecture." Every sound produced in the central chamber echoes seven times within the central chamber.
Ibrahim Rauza
It is the tomb of the fifth king, Ibrahim Adil Shah II. Just like the Mughal emperor Akbar, he was also known for his religious tolerance. Its prime characteristic is it being engraved on a single rock bed. The symmetry of its designs are quite amazing. It is also believed that the design for Ibrahim Rauza was taken as a nascent inspiration for the legendary Taj Mahal.
Upli Buruj
Hydeg view of entire Bijapur can be seen from the top of Upli Buruj. Two huge massive gur Khan built this high tower in 1584. It has the characteristic stone slabs and steps around it. The commandinns are located on the top of Upli Buruj.
Asar Mahal
Muhammed Adil Shah had built the Asar Mahal in 1646. It served the purpose of the 'Hall of Justice' during the historic times. The Urs festival is celebrated here every year.
When to Reach
The best time to visit Bijapur is in between the months of September to February due to the pleasant weather conditions.
How to Reach
Air: The nearest airport is located at Belgaum, which is 205 km away.
Rail:The Dantewada Railway Station is located 2 km away from Bijapur.
Road: Karnataka tourism buses are now available to reach Bijapur.